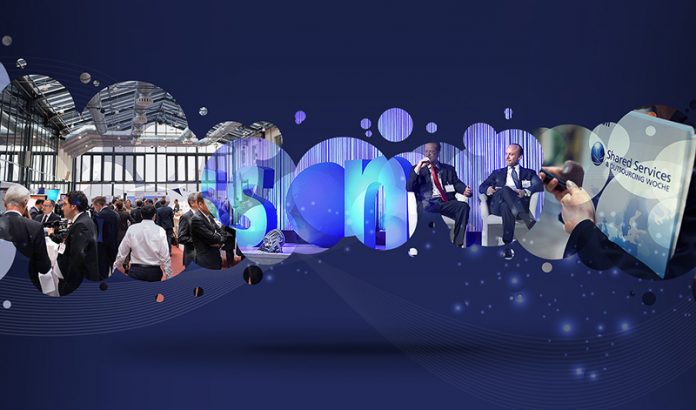 Über 280 Teilnehmer kamen zur 10. Shared Services & Outsourcing Woche 2015 in Berlin zusammen und profitieren von dem vielseitigen Programm.
Das Erfolgskonzept der letzten Shared Services Woche soll auch 2016 wieder angewandt werden – die bewährte Mischung von Innovation und Qualität in den Beiträgen, wie auch die Verleihung der Shared Services Awards, machen die Veranstaltung zu einem lohnenden Erlebnis.
Bereits im zweiten Jahr verfolgt SSON das Prinzip der reinen Anwendersicht. Bei SSON gibt es keine produktbezogenen Verkauftsvorträge von Anbietern. Das bedeutet, Sie erhalten in jedem einzelnen Vortrag Zugang zu den Sichtweisen der Praktiker aus der Industrie. Ihre Zeit wird so 100% sinnvoller investiert, indem Sie von echten Erfahrungen Ihrer Kollegen lernen. Technologieanbieter und Berater sind nach wie vor ein wichtiger Bestandteil der Konferenz. SSON sieht sich als Marktplatz, um stets über aktuelle Entwicklungen und Produkte zu informieren. Die SSON Bühne ist aber in jedem Fall für die Sichtweise der Praktiker reserviert .
Die Shared Services Evolution geht weiter und das Konferenzprogramm für November 2016 steht auch bereits!
Die SSON Excellence Awards wird es 2016 wieder mit neuen Kategorien geben.
"Best People and Communications" . Diese Kategorie, die weltweit sehr erfolgreich und beliebt ist, ist 2016 neu bei den SSON Awards Germany. Die richtige Kultur ist ein wichtiges Asset für das gelingen eines SSC Projekts und unabdingbar für Produktivität, Innovation und Mitarbeiterbindung. Und "Best Process Improvement and Innovation". Von Standardisierung zu Zentralisierung bis zu End-to- End Global Process Ownership oder technologischer Innovation wie Automatisierung und Robotics, Prozessverbesserung ist ein unverzichtbarer Part jeder SSC und GBS Reise
Das diesjährige Programm des viertägigen Events wird noch mehr Raum für Networking möglich machen – der interaktive Aspekt wird so erweitert und verstärkt.
Weitere Informationen finden Sie unter: www.sharedserviceswoche.de
Der Deutsche Outsourcing Verband und das Outsourcing Journal sind Kooperationspartner der Veranstaltung. Stephan Fricke, Vorstand des Deutschen Outsourcing Verbandes wird am 23.11. durch den BPO-Teil des Programms führen.