MANAGEMENT, STRATEGIES & OPERATIONS
Tech isn't just about programming. Many women think that software engineering is the only entry ticket into this booming industry, but there's so much...
Growing watermelons A common problem when outsourcing is doing the opposite of delegating responsibilities and tamping down in an...
Annual conferences of German Outsourcing Association and German Process Automation Association
Outsourcing & Shared Services Germany Forum + RPA & Smart Automation Forum 2020
October 7th  and 6th 2020, Berlin, Rockettower
MARKETS, DATA, STUDIES, REPORTS - UPDATED!
Laut einer aktuellen Studie von HAYS, die den tatsächlichen Fachkräftemangel in deutschen Unternehmen untersucht nutzen die Unternehmen nur sehr mangelhaft die zur Verfügung stehenden...
NEW! BUSINESS & COMPANY NEWS - DACH & EU (DE/EN)
The current market conditions in Germany – and other European markets – put HR and recruiting managers in the position to find new solutions...
From Rapid Growth to Maturity 
Looking at traditional location for Shared Services and BPO, Egypt enjoys a unique blend of qualities, putting it in the same ranks as Bucharest, Budapest or Warsaw.
H.E. Mr. Ramin Hasanov, Ambassador Extraordinary and Plenipotentiary of the Republic of Azerbaijan to the Federal Republic of Germany on the ICT sector in...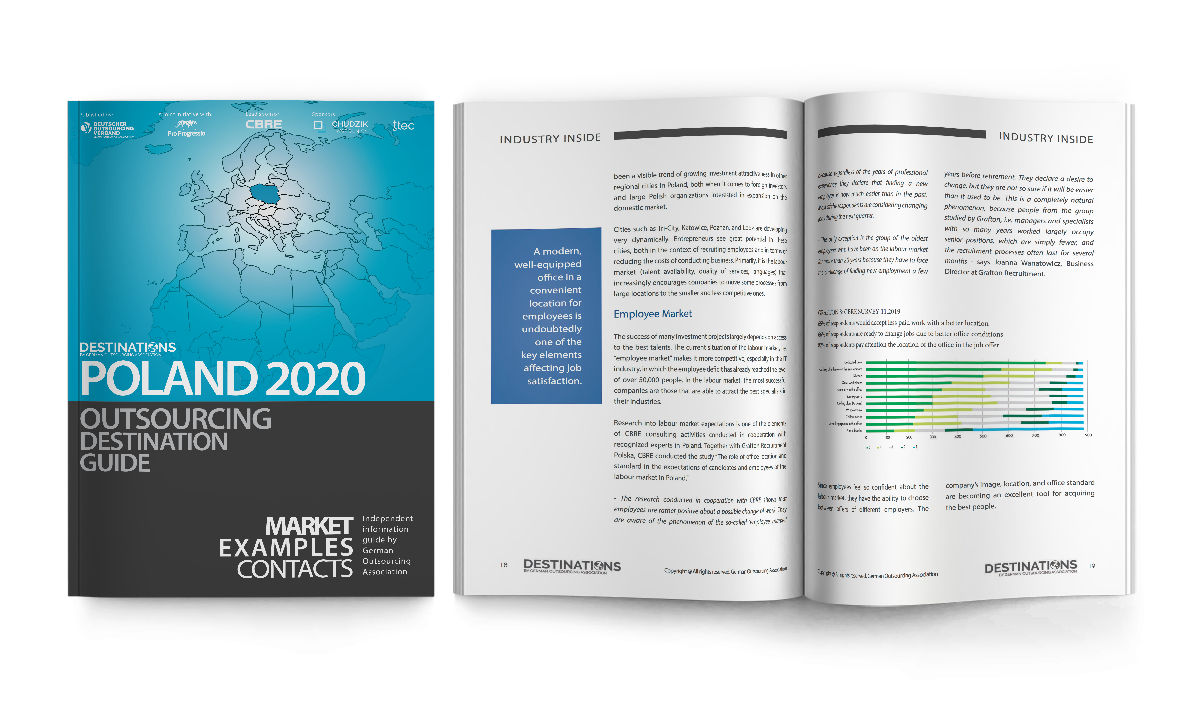 Experience, knowledge, proximity, scalability
Poland keeps setting standards for ICT and BSS industries, not only in Europe. With a history of more than 25 years the BSS sector is one of important economic sectors in Poland and provides unique opportunities as shared service or as outsourcing location.
The COVID-19 outbreak puts limitations not only on personal lives but also on the way businesses operate. We asked Armen Kocharyan Co-Founder and Managing...
BUSINESS PROCESS OUTSOURCING
Designing the right combination of automation and human service. Assist Digital Europe's Head of AI, Marco Palmonari, shared with the Outsourcing and Shared Services...
Technologies, Market, Destinations & Sourcing Practice 
The latest issue of our Outsourcing Journal Special Editions provides insights from practitioners on the implementation of new technologies, such as AI and process automation and how companies can benefit form innovating handling IT and business processes.
free, no registration required