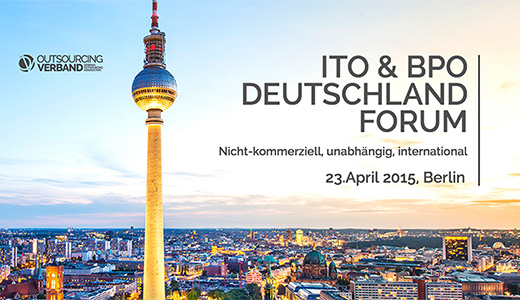 Das ITO&BPO Deutschland Forum ist die einzige internationale Branchenveranstaltung in Deutschland. Das Forum bezieht sich insbesondere auf die Marktbedingungen in Deutschland, wo speziell Onshoring Leistungen bevorzugt werden, und zeigt gleichzeitig Möglichkeiten auf, diese bestehenden Lösungen weiter zu optimieren.
Verantwortliche aus den Bereichen IT, Finanzen, Einkauf und Geschäftsführung können sich über Best Practices und Modelle informieren sowie sich mit führenden nationalen sowie internationalen Verantwortlichen austauschen.
Eingeladen sind Vertreter aus knapp 20 Nationen, inkl. Bulgarien, China, Deutschland, Großbritannien, Indien, Kosovo, Macedonien, Philippinen, Polen, Portugal, Rumänien, Schweiz, Tunesien, Ukraine und Weissrussland.
> Programm
> Anmeldung (kostenlos für Anwender aus Deutschland, Österreich und der Schweiz)
>> ENGLISH
IT- AND BUSINESS PROCESS SERVICE MODELS FOR GERMANY – NEARSHORING, OFFSHORING & ONSHORING
The ITO&BPO Germany Forum is the only international industry event in Germany. The forum focuses on the market conditions in Germany, where are especially Onshoring services preferred and shows at the same time opportunities to optimize these existing models and solutions.
Representatives from IT, finance, procurement and general management will have the opportunity to hear about Best Practices and models for Germany and exchange with national and other international industry representatives.
We have invited representatives from nearly 20 nations, incl. Belarus, Bulgaria, China, Germany, India, Kosovo, Macedonia, the Philippines, Poland, Portugal, Romania, Switzerland, Tunisia, UK and Ukraine.
More information and registration at > www.outsourcing-forum.org