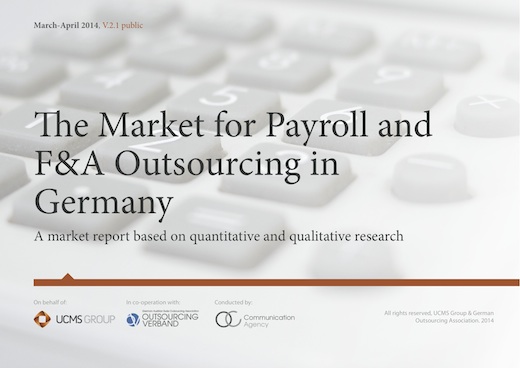 This report provides an analysis of the markets for outsourcing of payroll and finance & accounting processes in Germany, partly including Austria and Switzerland too. The report is based on market studies, articles, position papers, opinions, online resources and interviews covering a market perspective until 2015.
Challenge
The challenge was to connect the respective market segment with the targeted industries and company sizes. Generally we experienced that the markets for payroll as well as for F&A outsourcing were not analyzed so far to an extend that allows to evaluate each segment for each industry precisely.
Market Insights
Using the available resources we were able to provide a reliable indication on the status quo and the development of the markets for F&A and Payroll Outsourcing in Germany. Further, we provide in- sights on the conditions for the case of outsourcing from Germany to Nearshore destinations within the European Union and made conclusions for concrete actions to enter the German market.
> Download this market analysis (free, PDF, 70 pages)
This research was initiated by UCMS group, in co-operation with German Outsourcing Association, conducted by OC Communications