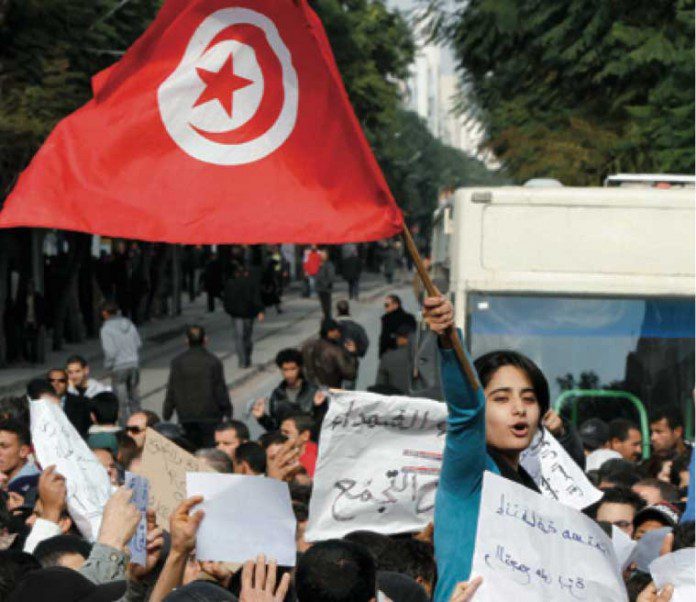 Long before the Western media woke up, the freedom movement started on the streets and in the internet. In the Internet, which had been censored already before, more sites with a critical attitude towards the regime were blocked and bloggers arrested. At a time when print and online media still discussed dioxin-contaminated eggs and swine flu, Facebook was developing into the single information exchange. There was no limit to the young people's creativity: Protest videos, Free Tunisia fan pages, profile pictures of Che Guevara and the Tunisian flag or the anonymous avatar expressed everything what would have put anyone in mortal danger on the street. By necessity, the first Western expressions of solidarity with the protesting Tunisians came from the internet community. Welcome to the 21st century!
A BLOGGER BECOMES STATE SECRETARY
Among the arrested bloggers was Slim Amamou (a type of star blogger – today he is the State Secretary for Youth Affairs in the interim government). To see one of their cyber mates behind bars for expressing his liberal attitude earned him supporters all over the world. Information from Tunisia was passed on and transferred in blogs and via Twitter and Facebook. This was done not only to keep the world posted but also to support the human right to freedom of opinion. The protest wave in Tunisia started with the self-immolation of a jobless academic in an economically weak area in the interior of the country on 17th Dezember 2010. The mobile phone videos from an area not known to the world before went around the world. According to the UN, more than 200 people died in the protests. Fellow Tunisians see those people as martyrs. But in the end it was the entire people, "El Schâab" in Arabic, freeing itself by toppling the mighty regime in an effort that was in parts spontaneously coordinated in Facebook and Twitter or by SMS.
TUNISIA'S MOST IMPORTANT RESOURCE – ITS PEOPLE
The majority of protesters who brought down Ben Ali on 14th January 2011 were business people, doctors, lawyers, judges, professors, students and engineers. Liberal, well-educated cosmopolitans, who knew how democracy works from their time spent abroad. This broad middle class is very interested in maintaining a stable and safe Tunisia because its members have been able to achieve a relatively high standard of living. Beyond its special affinity to the new media and networking, Tunisia has a number of exciting advantages to offer in the information and communication sector. Tunisia's geostrategic location means that for historical reasons people are more familiar with foreign languages than in other countries in the region. Along with Arabic and French, English and German are also popular. Offshoring investors were attracted with tax-exemptions, and competitive labour costs are bringing in reputable international companies from the BPO, ITO and R&D sectors (Teleperformance, Orange, hp, HR Access, Fidelity, Continental, Leoni, Siemens, Pfizer, … and just recently EADS).
GROWING IT SECTOR
Tunisia's IT and telecommunication sector is continuously growing and becomes more and more attractive, especially for Western European investors. As an offshore location Tunisia is the first choice not only for cost considerations. The outsourcing of projects in the business process operations and IT sectors is supported by the large pool of western-orientated, skilled labour and the, on the whole, very technophile climate in Tunisian society. Compared with all other North African and East European countries, Tunisia's IT infrastructure is at an above-average level of development. The country has been reporting growth rates of above 5% for more than 15 years. Renowned economic experts see an additional growth potential of 1-2 percentage points in the country, if the New Tunisia manages to eliminate corruption and create transparency.
The German FIPA (Tunisia's Foreign Investment Promotion Agency) office spontaneously received a lot of very positive feedback by founders and project managers after the upheaval. These companies are sure they have made the right decision and will hang on to Tunisia as a future location. The situation in Tunisia has already been stabilised and is returning to normal. This is also the result of a quick poll by the German Chamber of Foreign Trade in Tunis with German companies in Tunisia. By staging the Jasmine Revolution, the people of Tunisia have built a solid foundation for the irreversible process of democratisation. This will without doubt have positive repercussions for all areas.‹
Text Lamia Boufaied, FIPA Tunesia (fipacologne@t-online.de) / CeBIT Global Business Magazine / Local Global GmbH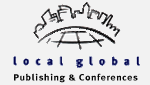 Über Local Global GmbH – local global verlegt Wirtschaftspublikationen, die sich mit dem Thema Internationalisierung befassen. Das Medienunternehmen stellt zudem für internationale Kunden multilinguale Medien (Web, Print) her. local global organisiert auch Konferenzen und Messen. Die Herausforderungen, die sich den Unternehmen bei der Internationalisierung stellen, sind der Ausgangspunkt unserer redaktionellen Services, Medien und Plattformen.
Das mehrsprachige Team der in Stuttgart ansässigen local global GmbH entwickelt sowohl eigene Verlagsprodukte als auch überzeugende Publikationslösungen für Unternehmen und Organisationen. Seit der Gründung im Jahr 1998 hat local global erste Adressen der Außenwirtschaft als Kunden und Partner gewonnen. Weitere Informationen unter www.localglobal.de