Because the European Union outran the United States by the total value of the ITO contracts in 2010, many experts predicted 2011 to be the year of a much tougher competition between Europe and the USA in terms of ITO deals[3]. However, according to IT Sourcing Europe, a European ITO market intelligence company, 2011 demonstrated a substantial decline in the EU's ITO and Business Process Outsourcing (BPO) transaction volumes. The slowdown in the European outsourcing activity occurred to a certain extend as a result of the EU currency crisis and the economic recession in its second-tier member states.
GLOBAL IT OUTSOURCING DRIVERS IN 2011
At the onset of 2011 Gartner, the world's leading IT research and advisory company, anticipated an accelerating change on the global ITO landscape driven by three key factors[4]:
Hypercompetition reflected in extreme cost-based ITO decision-making as a result of previously shrunken IT budgets, high levels of renegotiated ITO contracts and more viable choices (such as nearshoring versus traditional offshoring, multi-sourcing to niche providers versus stand-alone single-sourcing, etc. )
Consolidation reflected in accelerated acquisitions (e.g., HP – EDS, Xerox – ACS, Dell – Perot, Deloitte – BearingPoint) and enhanced Cloud engagements
Innovation reflected in ITO service providers' rapid responses to systemic changes in high-tech sector as well as increasing usage rates for Software as a Service (SaaS), Infrastructure as a Service (IaaS), Platform as a Service (PaaS), and Cloud and Utility models exceeding those for traditional project-based services
KEY OBSERVATIONS ON THE EUROPEAN IT OUTSOURCING LANDSCAPE IN 2011
Reviewing the actual state of affairs on the European ITO market, the following trends and corporate behavior patterns have been observed over 2011:
1. Small IT Outsourcing Deals
According to IT Sourcing Europe's 'Pan-European IT Outsourcing Intelligence Report 2011', the prevailing majority of the EU's ITO contracts did not exceed EUR 49K in value in 2011.
2. Diving for Dollars and Resources
In 2011, cost reduction remained the Number 1 reason pushing the EU companies to "pull the trigger" on the sourcing activity[5]. Pressed to cut IT budgets and/or reduce operating costs by C-Suite or top-tier investors, European companies became more eager to reconcile their original ITO contracts to avoid further over-payment and hidden agenda. Additionally, they became more eager to replace their current vendors with those able to provide more transparent delivery models and pricing structures[6].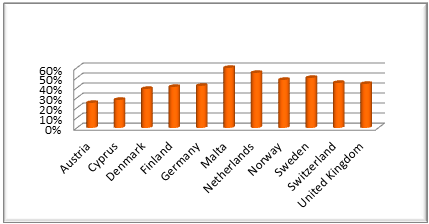 Another big driver of ITO decisions in Europe was the shortage and/or high cost of domestic IT resources. For instance, according to the latest research conducted by e-Skills UK, the Sector Skills Council for Business and Information Technology, in UK the proportion of IT professionals under 30 has declined from 33% in 2001 to 19% in 2010[7]. At the same time, the proportion of those over 50 has almost doubled to 17% in 2010, compared to 2001[8].
In 2011, the UK's IT and Telecom sectors lacked 110,000 new entrants to keep up with the demand[9]. In comparison, Germany lacked 117,000 ICT specialists in 2011[10].
Overall, according to IT Sourcing Europe's "Pan-European IT Outsourcing Intelligence Report 2011", the demand for external IT talents was rather high within the EU in 2011 (see Fig. 1).
Figure 1: Percentage of companies driven to outsource IT / software development solutions in 2011 as a response to the experienced skills shortage
3. Cloud-sourcing Not Yet a Mega Trend
In 2011, Cloud-sourcing remained just another buzz word and did not become a hot trend in Europe despite numerous predictions[11]. Although Cloud and SaaS solutions were the least outsourced areas in 2011, the number of Cloud-sourcing companies increased significantly in most of the EU countries, compared to 2010[12] (see Fig. 2).
The underlying reasons why cloud computing did not yet become a mainstream IT delivery platform in 2011 are as follows:
– There was very little evidence in the marketplace able to convince most of IT decision makers that Cloud-related investments and deployments are really "transformational" in nature (to date, most of them have only been "experimental")
– Companies still lacked substantial knowledge on how to accurately assess and mitigate risks in Cloud-related operations

4. "Combo Menu"
In 2011, more European ITO service buyers began to move away from outsourcing single functions or processes on a stand-alone basis to combining multiple processes and functions in their outsourcing engagements and developing innovative ways of managing multi-vendor environments. Additionally, multi-sourcing became the preferable outsourcing model due to the higher bargaining power that ITO buyers have over their niche providers.
5. Strive for Independence from Vendor's Project Management
Back in 2010, the vast majority of European companies reported their fear to lose managerial control of own IT projects among the key barriers in ITO adoption[13]. Thus, in 2011 more IT outsourcers engaged with their service providers via innovative business models such as Own Development Center allowing maximum IT project management control, timely delivery and economy of scale. In addition, more European ITO buyers were fully or partially involved in IT talent selection and salary negotiations in 2011, compared to 2010[14]. Such practices generally help ITO buyers to build own loyal remote IT teams in full compliance with their corporate culture, mission and business goals which is proven to lead to the improved team work efficiency and IT project quality.
6. Mass Migration Nearshore
During 2011 most of the European IT companies transferred their IT / software development functions nearshore versus offshore[15] (see Fig. 3).
As seen from Fig. 3, even the United Kingdom that has traditionally outsourced to India shifted its sourcing focus to Central and Eastern Europe. Offshore delivery capabilities proved to result in decreased product quality and communication problems[16].
2011 was the year of big changes in the European IT outsourcing journey. Many corporate IT decision makers stopped perceiving outsourcing as an immediate cost reduction tactic and started plugging it into business processes and long-term IT strategies ensuring access to cutting-edge technology and in-house knowledge building. Blended with the focus on highly competitive emerging markets in Central and Eastern Europe and increasing need of resources, innovation and faster time to market, the strategic use of outsourcing will soon determine new dimensions that the organisations will need to develop additional competencies and derive maximum value along the outsourcing value chain in the near future.
REFERENCES
[1] Stephanie Overby. "11 Outsourcing Trends to Watch in 2011" CIO.Com, 2010
[2] "Outsourcing is the first step towards IT services," IT News Africa, 2011
[3] "IT Outsourcing Market in Central and Eastern Europe: Trends, Figures, Predictions," Nearshore Outsourcing Blog, 2011
[4] "IT Outsourcing Trends: Tips to Shape Your Strategy," Gartner, 2010
[5] "Pan-European IT Outsourcing Intelligence Report," IT Sourcing Europe, 2011
[6] Ibid.
[7] "New e-skills UK research shows technology workforce needs 110,000 new recruits this year," e-Skills.com, 2011
[8] Ibid.
[9] ibid.
[10] "Plugging the skills gap," Businesseurope, 2011
[11] Stephanie Overby. "11 Outsourcing Trends to Watch in 2011," CIO.Com, 2010
"Greater political backing for outsourcing expected for 2011," TCWorld, 2011
[12] "Pan-European IT Outsourcing Intelligence Report," IT Sourcing Europe, 2011
"IT Outsourcing Intelligence Report 2010: Western and Northern Europe," IT Sourcing Europe, 2010
[13] "IT Outsourcing Intelligence Report 2010: Western and Northern Europe," IT Sourcing Europe, 2010
[14] ibid.
[15] ibid.
[16] Stephanie Overby. "11 Outsourcing Trends to Watch in 2011," CIO.Com, 2010
Autor: Viktor Bogdanov via Ciklum
Ciklum ist ein dänisches IT-Outsourcing-Unternehmen, das auf Nearshore-Softwareentwicklung in der Ukraine spezialisiert ist und für Kunden eigene Entwicklerteams aufbaut und unterhält. Der Dienstleistungsrahmen und Wissensaustausch innerhalb der Firma helfen den Kunden, schnell, mit weniger Risiken und minimaler Investition die gewünschten Resultate zu erzielen. Ciklum wurde 2002 gegründet und beschäftigt heute knapp 1.800 Spezialisten in 150 globalen Kundenteams. > www.ciklum.com