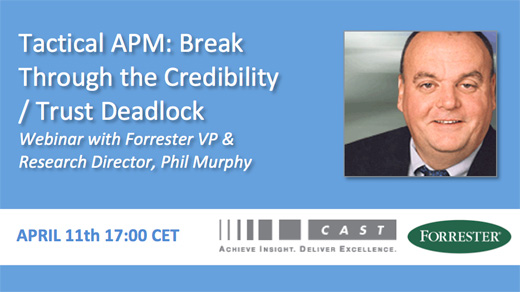 Nehmen Sie an unserem Webinar am Donnerstag, den 11. April 2013 zusammen mit unserem Gastredner Phil Murphy, von Forrester Research, teil. Herr Murphy erklärt wie ein effizientes APM Programm mehr Transparenz in Ihr Portfolio bringt. Diese Transparenz ermöglicht es Ressourcen strategischer zu nutzen und das Vertrauensverhältnis zu den Geschäftseinheiten zu stärken.
Phil Murphy beschreibt ebenfalls wie Sie die Tücken von zu komplexen Ansätzen verhindern können, und gezielt die Modernisierungsvorhaben auswählen, die den größten strategischen Nutzen haben.
DETAILS
Datum: 11.04.13
Zeit: 17:00 Uhr
Falls es Ihnen nicht möglich ist, an dieser Veranstaltung teilzunehmen, können Sie sich dennoch registrieren, um Zugriff auf die Aufzeichnung zu erhalten, sobald diese verfügbar ist.
CAST – Software Analysis, Measurement – CAST ist Wegbereiter und Weltmarktführer auf dem Gebiet der Softwareanalyse und -messung. Mit Investitionen von mehr als 90 Millionen Dollar in Forschung und Entwicklung erarbeitete CAST eine Lösung, die dem IT-Management transparenten Einblick in Anwendungsentwicklung und Outsourcing auf der Basis objektiver, faktenbasierter Entscheidungsgrundlagen verschafft. Mehr als 250 Unternehmen weltweit vertrauen branchenübergreifend auf CAST, um Betriebsunterbrechungen zu verhindern und ITKosten zu senken. Bei führenden, global operierenden IT- Dienstleistern ist CAST fester Bestandteil des Portfolios zur Softwarebereitstellung und -wartung. CAST wurde 1990 gegründet und ist an der NYSE-Euronext notiert (Euronext: CAST). Das Unternehmen bedient Kunden auf der ganzen Welt über ein Netzwerk von Niederlassungen in Nordamerika, Europa und Indien. Weitere Informationen finden Sie im Internet unter www.castsoftware.com
Cast Software is official Knowledge Partner of the German Outsourcing Association.