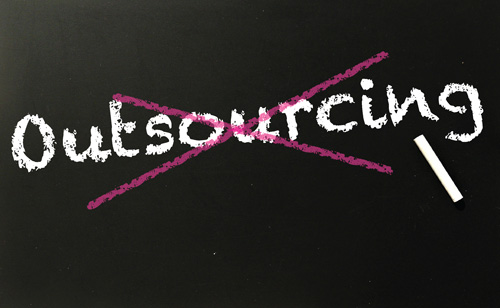 Likewise, nobody displaces their workforce simply for the sake of doing so. A similar understanding of customer motivation might move us toward a more fundamental understanding of what those of us who now call themselves outsourcers really do. I propose that the history of our industry so far can be understood under the twin disciplines of cost control and performance as related to corporate services. Let's consider what that means.
Corporate services would include all the traditional outsourcing verticals such as customer service and support; IT management, system implementation, development; finance and accounting; data entry and so on. Cost control need not mean lower costs necessarily either. Factors such as conversion of assets or variable costs to a fixed monthly expense can contribute less obvious advantages to overall cost control strategies.
Of course, cost control is meaningless independent of performance. By virtue of focus, experience, and best practice, most vendors in our industry are capable of meeting or exceeding some element of efficiency and/or quality as related to SLAs, workforce management, recruiting, documentation, training, development, implementation, automation, or CSAT for the services we assume and provide on behalf of our clients.
Corporate Services:
Cost Control
Services – Customer service/support, technology management, development, finance and accounting, business processes, data entry, provisioning, etc.
Assets – Conversion of assets to fixed cost (e.g. facilities and equipment)
Performance
Efficiency – Process redesign, technology implementation
Quality – Customer satisfaction, service level agreements, workforce management, best practice
When one embraces this expanded definition of what we do, several conclusions follow:
Outsourcing remains only one of many cost control and performance strategies.
New revenue opportunities are revealed outside of strict FTE focused solutions.
Those opportunities occur within the current skillsets, expertise and comfort zones of most vendors. For example, standard services such as process documentation, SOP development, training development, process optimization, workforce management and quality assurance simply become ala carte offerings.
Lower barriers to contractual entry and exit — as opposed to full-on outsourcing agreements — opens new business opportunities with clients formerly resistant to taking the big plunge.
Admittedly many providers work from a somewhat narrower focus. For those unaccustomed to such an approach, a few challenges remain. Firstly new, more consultative skillsets may need to be acquired. Many vendors now lack real process re-engineering talent and know how. New compensation plans, contract formats and pricing models many need to be created. We'll explore evolving revenue models as a separate topic as well.
So your next conversation on the street might go something like this: Acquaintance: "So what business are you in?" You: "Corporate services cost control and performance." Acquaintance: "Oh, you mean the outsourcing industry?" (Obviously read this article) You: "Well that is one possible outcome, we have many strategies toward achieving those goals, for instance….."
So if you agree with me, we are no longer in the outsourcing industry. Nobody ever really was. We just call it that. We're in the corporate services cost control and performance industry. Always were. It all turns out to be a question of focus after that.
More from this author: Shared Services Optimization – An innovative Approach
Author: Metthew Heffron – Former CEO with deep insight across more than 20 industries in as many years making him a top go-to for process re-engineering, program rescue and outsourcing assessment engagements. His innovative approach has earned him the honorary title of "Ambassador of Excitement" by marketing. In many ways his wholistic contribution defies labels having performed as solutions architect, transition manager, process re-engineer, business analyst, systems designer, solutions developer, videographer, graphic artist, proofreader, writer, and cartoonist — sometimes all in the same week. Matthew is currently performing as Director of Global Integrated Solutions for Sutherland Global Services which reveals little of the totality of what he actually does, but such is the way with titles. Specialties: BPO, excitement, innovation, vision, insight, humor, process re-engineering, cartoonist, videographer, solutions architect, communications artist. > Visit Metthew Heffrons blog
Source: sourcingsage.com , Picture: Outcome