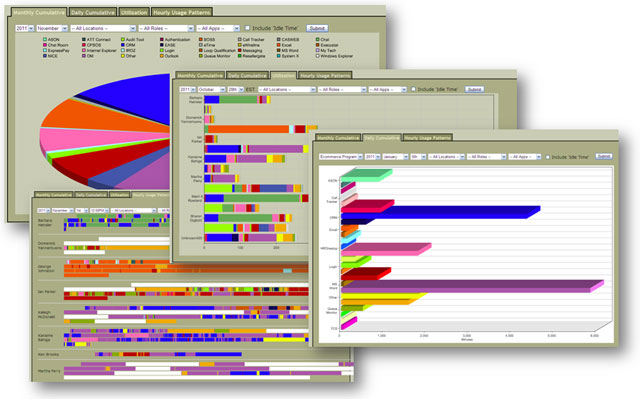 In my own approach that methodology is initiated by the introduction of a small and non-intrusive StopWatch "listener" application on associate workstations. Immediately that listener begins to accumulate non-sensitive desktop application usage patterns and utilization by agent. That data is periodically transmitted to a central store for processing and analysis – either behind or beyond the customer firewall – as dictated by the client's INFOSEC policies.
Operations managers can immediately begin monitoring that output to suggest additional training needs, provide coaching feed-back, fine-tune workforce management, enforce compliance, and identify process optimization opportunities. Process engineers can make periodic reviews to add expert analysis against the output and contribute insights gained from other programs. Client and vendor can collaborate to identify process optimization opportunities, quantify the business case against REAL data, and most importantly VERIFY the business case post-implementation. The metrics gained are powerful and incontrovertible. The efficiency gains are significant and measurable. The process is continuous.
Desktop Analysis Reports include the following:
Monthly application usage with drill-down to monthly per-user usage by application and further drill-down to show by-the-second time spent on individual screens for recent time periods.
Daily application usage with drill-down to per-user usage and further drill-down to show by-the-second time on individual screens.
Daily utilization by user showing relative application usage and idle time for the day with drill-down to show past 5-day trend by user.
Hourly application usage patterns showing idle time and with the ability to drill-down to detailed by-the-second screen breakdown and full-day view by user.
Subsequent implementations have shown that monitoring workflow alone – without any other changes – yields from 3-7% immediate efficiency improvements. That was observed and designated the Hawthorne Effect as far back as the 1930s. As that famous study further showed, those effects are found to diminish over time without regular reinforcement. That is why continuous improvement requires incorporating Stopwatch feedback into regular performance reviews.
Nevertheless, a true continuous improvement strategy merely begins with measurement and analysis. There needs to be a concrete methodology and culture established to create and sustain a continuous improvement program with continous benefit – the subject of another blog.
Stopwatch comes in three versions defined by where the reporting occurs: local, shared and enterprise. If you would like a sample of the kind of insight StopWatch offers, I give away the local version free with no strings attached (you don't even have to sign up). Just visit the tools section of this blog HERE — yes you heard right — entirely free and the only restriction is that it reports on just the local machine. Put it on as many computers as you like.
Author: Metthew Heffron – Former CEO with deep insight across more than 20 industries in as many years making him a top go-to for process re-engineering, program rescue and outsourcing assessment engagements. His innovative approach has earned him the honorary title of "Ambassador of Excitement" by marketing. In many ways his wholistic contribution defies labels having performed as solutions architect, transition manager, process re-engineer, business analyst, systems designer, solutions developer, videographer, graphic artist, proofreader, writer, and cartoonist — sometimes all in the same week. Matthew is currently performing as Director of Global Integrated Solutions for Sutherland Global Services which reveals little of the totality of what he actually does, but such is the way with titles. Specialties: BPO, excitement, innovation, vision, insight, humor, process re-engineering, cartoonist, videographer, solutions architect, communications artist. > Visit Metthew Heffrons blog
Source (text and picture): sourcingsage.com