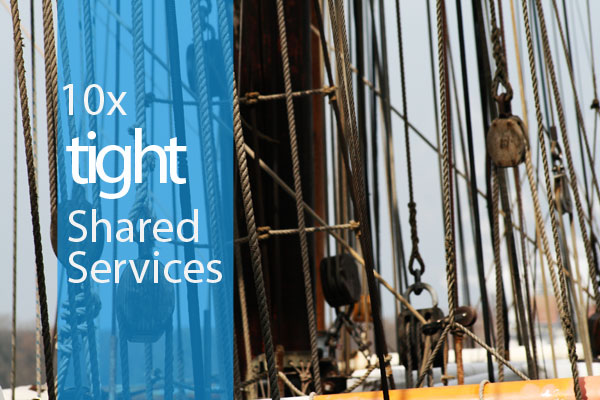 Transition is expensive and will necessarily impact customer service to some degree. That expense is a product of the period of time under which you (the client) are paying for both legacy staff AND the ramping team; dual facilities; as well as the transition team itself. Inevitably, customer service is impacted as the new team gains the expertise that comes with tenure. For both reasons, the ideal is to keep transitions short and effective.
If you are on the outsourcing path, there are specific transition deliverables that can be readied prior to signing. Those can help streamline the transition process and reduce both risk and cost. Even if you are uninterested in outsourcing, the benefits to be gained through increased discipline are measurable and significant. You should have the following in place now:
1. Process Documentation – You need graphical process flows. They are at the basis of every continuous improvement effort. They define best practice and preferred method. They are key elements of SOP and training documentation. There is no excuse for cutting this corner. If you don't have any – get started now. If you do, schedule periodic reviews to ensure currency and thoroughness.
2. Standard Operating Procedures (SOP) – Also known as Methods and Procedures Manuals, Desk-side Reference Manuals and elaborate drink coasters. Yes, they will gather dust after your associates are trained, key word being AFTER. They are absolutely critical reference material for new associates for everything they do. They are essential to experienced associates needing a quick refresher on less frequently executed processes they forgot from training.
2. Training Curriculum – You cannot rely on shadowing as a primary training methodology. Almost certainly higher attrition rates will be the new norm and you cannot rely on verbal tradition to sustain valuable tribal knowledge. It's unreliable, inconsistent and can spread bad practices and habits. Good news is this: If you've already created #1 and #2 above — you're halfway there.
4. Knowledge Base — You need to have an online reference portal for associates. It is also the place where you craft official response verbiage to cast your organization in the best possible light at all times. Getting rapid answers is key to satisfying customers and completing transactions efficently. Yet knowledge bases are a major effort to create up-front and maintain over time. Keep in mind that you don't have to have a "big bang" release – you can implement a growing knowledge base incrementally and hone it over time.
5. Program Documentation – The structure of your organization needs to be defined and documented. That includes locations, seating, roles, job descriptions, headcount, language support, hours of operation, SLA's, hardware requirements, software requirements, regulatory impacts, legalities, union constraints, org charts, and the list goes on. The better you can define, the better any transition will be.
6. Organizational Optimization – You probably inherited programs from different divisions with their own hierarchies over time. Now is the time to set aside fiefdoms for a moment and consider whether your current org chart is the most effective. Can workgroups be consolidated under fewer managers? Can similarly skilled workers be cross-trained to load balance incoming work against a larger pool? Are there redundancies? Anything you fail to fix organizationally now will perpetuate once it is handed off.
7. Workstation Standardization – The best IT organizations create a standardized snapshot of a workstation configured with all the required applications for any specific employee role. They call that an "image". When a new desktop PC is required, that image is applied in minutes and the workstation deployed. If you have 500 desktops and 500 configurations it is a support nightmare and impossible to scale – the impact to training notwithstanding. If you haven't created and deployed standardized workstation images you have work to do.
8. Systems Inventory – Think what would happen if tomorrow your entire IT department were hired away. How long would it take another team to get up to speed? You should have systems documentation sufficient to continue seamlessly in just such an event, regardless of the likelihood. That would include servers and specifications; workstations and specifications; routers; data and voice circuits; software and versions; licenses and renewal schedules; phones and switches; maintenance windows; SLA's; and the list goes on.
9. Metrics – Many shared services programs lack even rudimentary metrics describing work volumes and arrival patterns. If you don't have reporting in place already, decide which performance measurements will be most important to you into the future. Too many measures become meaningless and needlessly time consumptive. Too few and you lose transparency. And if you overemphasize efficiency at the cost of customer satisfaction you could put yourself out of business. Decide what is best for you and measure long enough to become confident in what the statistics actually tell you.
10. Costs – You need to understand your current, fully-loaded costs to effectively evaluate any business case proposition. That includes salaries, benefits, perks, facilities, equipment, IT support, hardware, software, licenses, maintenance, utilities, supplies, travel, transportation and so forth. The exercise itself can uncover new insights and savings opportunities.
Again, regardless of your intent to outsource, there is much to gain by implementing this list now. Even if intervening factors prevent implementation beforehand, at the very least this can become a checklist for your outsourcing vendor contract.
More from this author:
"Shared Services Optimization – An innovative Approach"
"Stop Calling it Outsourcing"
About the author: Matthew Heffron – Former CEO with deep insight across more than 20 industries in as many years making him a top go-to for process re-engineering, program rescue and outsourcing assessment engagements. His innovative approach has earned him the honorary title of "Ambassador of Excitement" by marketing. In many ways his wholistic contribution defies labels having performed as solutions architect, transition manager, process re-engineer, business analyst, systems designer, solutions developer, videographer, graphic artist, proofreader, writer, and cartoonist — sometimes all in the same week. Matthew is currently performing as Director of Global Integrated Solutions for Sutherland Global Services which reveals little of the totality of what he actually does, but such is the way with titles. Specialties: BPO, excitement, innovation, vision, insight, humor, process re-engineering, cartoonist, videographer, solutions architect, communications artist. > Visit Matthew Heffrons blog
Source: sourcingsage.com , Picture: Outcome