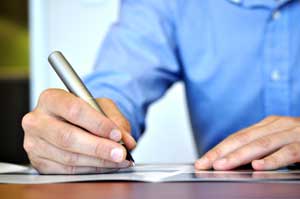 Germany's Key Advantages – Germany meets all of the major requirements of the international sourcing industry. Thanks to the presence of a highly qualifi ed workforce, increased integrated processes can easily be implemented within the centers. Accordingly, the units in Germany achieve a higher level of standardization and operate more efficiently. Labor turnover rates of around five to ten percent are significantly lower than in near or offshore locations. Labor costs remain stable; with higher salary levels adequately compensated by more effective work fl ow systems and increased productivity.
Striking the Right Cost-Performance Balance – Germany can offer a high quality proposition. The "Made in Germany" quality seal continues to be a benchmark of excellence recognized the world over. And not only in traditional heavy industries, but also in the country's thriving service sector where highly trained personnel are helping consolidate the country's deserved reputation as an international center of service excellence.
Moreover, the cost-quality proposition offered by German towns and cities is significantly better than that of similar locations in pan-European comparison.
Proven Quality – The findings of the IBM Global BusinessServices' Global Location Trends Report demonstrate that German cities have the highest costs but also the highest quality operating environment. Increasingly more German companies are taking advantage of shared service operations located in Germany.
BASF has established its European Shared Service Center in Berlin. With approximately 850 employees from 45 nations, it delivers F&A and HR services for all companies in the BASF group in Europe (more than 100 companies). The establishment of the shared services center in Berlin was made possible thanks to specially negotiated collective agreements.
Key sourcing location drivers include:
1. Labor and labor development costs
2.Availability of qualifi ed and motivated staff (technical and linguistic skills)
3. Labor attrition rates
4. Attractiveness of the location (also for international talent)
5. Real estate (availability and cost)
6. IT and physical infrastructure
7. Location accessibility (providing quick and easy local access to employees and international transport infrastructure)
8. Political stability
9. Taxation
10. Incentives
Read in the 3rd part: Market Segmentation
Quelle: Industry Overview BPO & Shared Services April 2010 by GTAI
Germany Trade and Invest Gesellschaft für Außenwirtschaft und Standortmarketing mbH,
Friedrichstraße 60 – 10117 Berlin Germany,
T. +49 (0)30 200 099-555 – F. +49 (0)30 200 099-999