Software and Services
Recession didn't cause major shifting in the software development and IT services sector from the geographical point of view, but we have witnessed a better evolution of clusters outside Bucharest.
The capital city still dominates the software sector with 63% of total revenues and 50% of the personnel; counties of Timis with 8.6% and Cluj with 6.6%, both manifesting steady growth, are still far behind. The evolution of such clusters outside Bucharest was triggered by software development activities in the benefit of foreign customers, as well as by the expansion of research, development and support centers opened by multinational companies.
The expansion movement towards alternative clusters was generated back in 2000 by the growth of internal consumption, which demanded extensive access to human resources. Many of the companies based in Bucharest have opened offices and hired personnel in other cities. Similar behavior was adopted by companies in cities other than Bucharest, especially ones with foreign capital, expanding outside the initial location, and big multinational companies opening development and support centers. Most of the latter opened in Bucharest, after 2005, but once the need for qualified resources grew, they migrated towards other high-education technology centers.
Examples are numerous: HP software development center in Cluj, IBM expanding to Brasov, Microsoft present in Timisoara, Accenture and Genpact in Cluj, Wipro in Timisoara, Ubisoft in Craiova or Continental Automotive in Iasi and Sibiu, and Capgemini and Amazon in Iasi, chosen as initial location.
Evolution of main cities and companies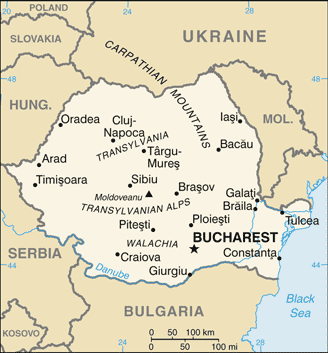 Bucharest. 27 of the 30 biggest companies in software and services and 190 of the 290 companies with revenues over 1 M EUR are based in Bucharest; these are big local companies, integrators and solution providers, as well as support and R&D centers of IT multinational companies.
Timisoara. For many years in a row the second biggest software center, Timisoara is the only city on growth in 2009. The positive evolution was due to the significant growth of R&D activities in Continental Automotive (+50%), but also to similar evolution of software development and outsourcing companies present here: ACI Worldwide, Saguaro Print, OCE Software, Internet Marketing On-line, Berg Computers.
Cluj. After Bucharest, Cluj is the second city on the number of software and services companies based here; also, the share in the total turnover and number of employees in the sector has been growing over the last years, maintain the third place, after Bucharest and Timisoara. Medium sized software and outsourcing companies have reported turnover growth: EBS, iQuest, Arobs Transilvania Software, Softvision, Endava, Medea Services, Tora Trading Services, Yonder, ISDC, Uniqa Raiffeisen Software, Work Solutions and Neusoft Mobile Solutions.
Iasi. Although in 2010 the number of employees of the sector was on the rise, compared to 2009, the revenues decreased by 10%. Some of the local companies have experienced difficulties, but they were compensated by a better evolution of development and support centers opened in the last years: Continental Automotive, Capgemini, Genpact and Amazon.
Brasov. Sensible decrease in turnover and number of employees in some of the companies was pondered by the positive evolution others, such as la Freudenberg, Pentalog Romania and Pentalog Technology (+154%), LMS Romania, Route 66 and Awinta.
Dolj. Most of the companies have reported sensible growth for 2010 – CS Romania, Netrom Software, Museglobal, IT Six Global Services, Redline Communications, Caphyon, this leading to a balanced evolution compared with 2009 in turnover and personnel.
Telecommunications
Concentration in Bucharest accentuated over the last years. The turnover for Bucharest dropped in 2010 by 13.5%, while the capital city still counts for 92.5% of the total, compared to 71% in 2005. This was caused by the rapid development of big operators and the acquisitions they made outside Bucharest. In the counties of Brasov, Prahova, Covasna, Cluj the decrease was less severe, under 10%, while in Iasi, Constanta and Ilfov the turnover dropped severely.
Hardware and electronics
The solid growth of Nokia and the rather contradictory evolution of other production units of companies in the Western region, combined with the severe decrease of local computer manufacturers, modified radically the geo-distribution of this sector. Cluj, with 100% growth, consolidated the leader position, generating half of the country production, while Bihor, Timis and Brasov counties maintained their 2009 position.
Source: Country Profile, published by romania IT

romaniaIT is a public-private initiative set up in 2006 by a group of stakeholders that included ministries, industry associations and companies interested in promoting the national IT industry abroad. The new brand was internationally launched in March 2007, at CeBIT Hannover, the most prominent IT&C fair in Europe. romaniaIT is governed by a Sectorial Branding Committee, in which the following organizations are members:
MECMA – Ministry of Economy, Trade and Business Environment
MCSI – Ministry of Communication and Information Society, ANIS – Employers' Association of the Software and Services Industry, ANISP – National Association of the Internet Service Providers, APDETIC – Association of Producers and Distributors of IT&C Equipment, ARIES – Romanian Association for the Electronic Industry and Software, ATIC – Association for Information Technology and Communications
Contact: Valerica DRAGOMIR (Ms.), Executive Director, email: v.dragomir@anis.ro