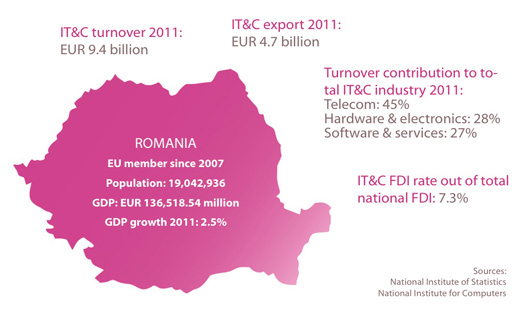 Investor attention regarded Romania a perfect match for information technology outsourcing activities, software development and research programs, knowledge process outsourcing and business process outsourcing operations, as well as for shared service center capacity. The country in becoming leader in IT outsourcing, particularly for chip design, embedded software and information security.
In October 2012 Jones Lang LaSalle ranked Romania 9th globally among outsourcing destinations by the number of jobs created due to foreign direct investment. Data from the report points out that between 2008 and 2012 a number of 40 outsourcing projects created 11,438 jobs in Romania. Poland is placed only two positions higher on the global outsourcing map, producing 13,476 jobs under the framework of 46 projects. From the direct comparison results that Romania's job performance in the outsourcing industry is only with 2,000 less than the one shown by Poland, a country that is almost twice as large in terms of population.
Romania occupies the 6th position globally in the top 10 emerging destinations list of the Times Outsourcing Business supplement 2012, preceded by Jamaica, Chile, United Kingdom, Ghana and Poland, and followed by South Africa, Russia, Vietnam and The Philippines.
In our present study we propose to analyze what exactly are the driving principles of the Romanian ITO and BPO market and why an increasing number of investors choose to open service centers in Romania.
Economic Context
Romania, which joined the European Union on January 1st, 2007, is the 22nd largest economy in Europe and the 17th in the EU by total Gross Domestic Product (GDP). Before the global economic recession, Romania enjoyed almost a decade of steady economic growth, thanks to a strong demand in EU markets. Domestic consumption and foreign investments have fuelled strong GDP growth, but have also led to a widening account deficit. The year 2008 was marked by a great economic expansion, when a credit-based consumption made Romania the EU's fastest- growing economy. In early 2009 the overheated economy plunged into recession and GDP fell by more than 7%, below the level of 2007.
As a matter of fact, Eurostat data shows that GDP output in the EU followed a contraction line in the second quarter of 2012 both among member states of the Union and the euro zone countries. Romania's GDP growth, however, is remarkably outperforming the figures of its CEE peers: Romania was one of the nine EU states to achieve both quarter on quarter (QoQ) and year on year (YoY) growth and registered the 4th highest economic growth rate in EU in Q2 2012. While in the previous quarter GDP in both the euro zone and the EU27 was down 0.2%, Romania scored 0.5% higher in Q2 2012 against Q1 2012, preceded by Sweden (1.4%), Latvia (1%) and Slovakia (0.7%).
Comparing Q2 2012 to the same period last year, the euro zone's GDP fell by 0.4%, while the decrease for the EU27 was 0.2%. Meanwhile, Romania's GDP was up by 1.7% in Q2 2012 than in Q2 2011. Romania's GDP performance was among the best in Europe. All in all, eastern European countries had a generally better GDP performance than its western European peers.
GDP growth followed the upward line in Q1 2013 as well, performing by 0.5% better in real terms in comparison to Q4 2012. Romania's GDP was up by 2.1% gross value and by 1.4% seasonally adjusted value in Q1 2013 than in Q1 2012. In Q4 2012 GDP grew by 1.1% in real terms in comparison to Q3 2012. In 2012 the Romanian economy has developed by 0.7% in comparison to 2011. According to the recently published World Economic Outlook report IMF estimates a 1.6% economic expansion in 2013 for Romania.
The IT&C Industry in Numbers
Favorable economic conditions ensured a positive evolution track for the IT&C industry. According to a study made by the National Institute for Computers Romanian the IT sector (software and hardware services and electronics) followed a strong upward trend in the years 2010 and 2011, however, Romanian telecommunications sector showed significant attenuation of contraction.
Total turnover of ICT has increased by 8% in 2010 and by 2% in 2011, recovering the contraction from 2009 and returning to the amount of EUR 9.4 billion from 2008, the year before the crisis. Production and services sector had a similar development. Total IT&C and exports continued to grow throughout the crisis and post-crisis amounting EUR 4.7 billion, exceeding by 55% the 2008 level. Growth was mainly determined by the hardware and electronics sector, where exports have doubled, but software and services sector contributed to the expansion as well, showing an increase by 37%. The number of total IT&C employees has stabilized at 119.000. Overall positive dynamics is the result of uneven development in the three sectors of IT&C affected differently by the domestic and external demand.
International Country Rankings
Foreign interest for Romanian ITO services is confirmed by international rating agencies and reports that confer a good position to the Central Eastern European country. "A.T.Kearney Global Services Location Index 2011" ranks Romania 25th regarding its attractiveness for IT&C services, positioning the country after Bulgaria and Poland, well ahead of Hungary, Czech Republic and Slovakia.
Romania is present with four companies in Deloitte's Top Technology Fast 500 EMEA, a program recognizing technology companies that have achieved the fastest rates of revenue growth in Europe, the Middle East and Africa during the previous five years. Romanian internet airline ticket retailer Vola.ro is ranked 3rd in Deloitte's Top Technology Fast 500 EMEA, mobile banking service provider SmartTel occupies the 158th position, while two other Romanian IT&C companies were placed 162nd and 247th, respectively.
Romanian Vola.ro scored a revenue growth rate of 17,323% in the period between 2007 and 2011. The Romanian company specializing in web-based airplane ticket booking was ranked 1st in Deloitte's 2012 Central Europe Technology Fast 50, performing the 2nd highest growth rate in the history of Deloitte's Central European Program and fastest five-year growth observed since 2005.
Governmental Incentives. Establishing Cluj IT Cluster.
In an attempt to support private IT&C endeavors, the Romanian Government is playing an active part in attracting foreign investment to the country. 100% income tax exemption for IT employees has been maintained straightforward even after joining the European Union. State aid schemes are likely to be granted in the years to come, as well.
Moreover, Romania's major cities were qualified as strategic development capitals in order to provide conducive environment to the areas in which they excel. A new strategic plan, endorsed by the Romanian Ministries of Economy and Regional Development, positioned Cluj-Napoca as the center of information services in Romania. On the 14th of November, 2012 Cluj IT Innovation Cluster has been officially launched on national level. The Cluj IT Innovation Cluster has its role model in the Silicon Valley and aims to transform Cluj, the 2nd largest city from Romania, into the most important center for IT research & development and IT business in Romania. The Cluster aims to provide an officially supported growth platform for local IT sector representatives.
Cluj IT Association has been legally established in October 2012 as a non-profit association and proposes to coordinate the activities and projects undertaken by the Cluj IT Innovation Cluster. It comprises 23 technology companies, with a total turnover of EUR 100 Million. Its mission regards the initiation, promotion and support of common interests in the IT&C sector and relationship with the state and business environment, both nationally and internationally, promotion of modern business paradigms as well as provision of innovative informatics solutions that can support sustainable and competitive development for the national business environment and public institutions. Specifically, it aims to increase the capacity of research and development, fostering cooperation
between public institutions undertaking research, development and innovation (RDI) and private companies, capitalization on the underlying potential of IT&C and its application in both the public (public administration, education, health) and private sector (enterprises, citizens), increasing the competitiveness of local IT&C industry representatives, supporting economic trade and commercial activities between members of the cluster, supporting entrepreneurship and SMEs among local IT&C members, identifying and attracting resources (investments, hedge funds) to attain long-term development in the sector.
The activities driven by the IT companies located in Cluj have established the region as one of the most attractive destinations for IT investments in Romania. Its high focus on export, especially towards EU and US markets, helped Cluj rank among the first Romanian cities from an IT export revenue perspective.
Regional Romanian IT Centers
Bucharest, the capital city occupies the pole position in the Romanian IT&C industry, giving 67% of the country's turnover, 56% of the number of employees and over 60% of the GDP contribution of all three sub-sectors – software and services, hardware and telecom. 27 of the 30 biggest companies in software and services and 190 of the 290 companies with revenues over EUR 1 Million are based in Bucharest; the city is home to local companies, integrators and solution providers, as well as support and R&D centers of IT multinational companies. A drop of 10% in the contribution of Bucharest to the industry turnover during the last two years is a clear indication that the capital loses ground in favor of the North-West region.
After Bucharest, Cluj-Napoca is the second city by the number of software and services companies based here; also, the share in the total turnover and the number of employees in the sector has been growing over the last years. Corporations opened new R&D centers or expanded existing ones. The most important software and service companies are: PGP Corporation (data protection and security software), HP software development center, Evalueserve, Sykes, SAP. Not surprisingly places KPMG Advisory Cluj-Napoca amongst the first 31 word destinations for investments in the field of information technology, pointing out the key aspects that make the city a location of choice: professional labor pool, attractive costs and geographic proximity.
"More than 1000 IT graduates finish each year in Cluj, whose passion, talent and inventive professionalism is highly appreciated both locally and internationally." declares Mr. Levente Szélyes, CEO Codespring.
What's more, in 2012 Cluj-Napoca appears for the first time on Tholons' list of leading locations for outsourcing services. Global service and outsourcing consultancy firm Tholons included in his Top 100 Outsourcing Cities 2012 report Cluj- Napoca as a new entry and positioned the city on the 96th place on the global map of top outsourcing destinations. Hosting near 250 ITC companies, with roughly 5000 active software engineers, Cluj- Napoca's software market has expanded by 48.8% in the last two years.
Other important IT hubs are Timisoara, Iasi, Craiova and Brasov.
R&D activities in Continental Automotive (+50%) contributed to the IT sector expansion of Timisoara. Add to that the activity of software development and outsourcing companies of AICI Worldwide, Saguaro Print, OCE Software, Internet Marketing On-line and Berg Computers.
Iasi has been ranked as the 75th city globally for the highest internet penetration. Although in 2010 the number of employees of the sector was on the rise, compared to 2009, the revenues decreased by 10%. Some of the local companies have experienced difficulties, but they were compensated by a better evolution of development and support centers opened in the last years: Continental Automotive, Capgemini, Genpact and Amazon.
Investors from Craiova include Hella (software design and development center), French CS Group (customized software development for technology systems) and Dutch NetROM Software BV (business process software development). Elektrobit, a leading developer of cutting edge embedded technology solutions for the automotive and wireless industries, announced an expansion in Brasov with plans to grow its local team to more than 100 software developers over time. The new Brasov office will focus on automotive software product development and testing.
Romania as a Preferred BPO Center
BPO centers have either been set up in large Romanian cities or entered the Romanian market through acquisition of local companies. The majority of the main BPO players from Bucharest have each opened at least one service center in large cities, around the main established university centers. To name just a few: Wipro, HP, Siemens, Bosch have expanded in Timişoara, Intesa San Paolo Bank, Route 66, IBM's second center has opened up in Braşov, Capgemini set up offices in Iaşi, XL World opened operations in Iaşi, Bacău and Oradea.
Cluj-Napoca has emerged as a BPO hub not only for software development services, but for IT helpdesk, financial & accounting, procurement, audit, tax and advisory services. KPMG has opened an audit & tax advisory service center in Cluj- Napoca, serving banking, pharmaceuticals, energy, insurance, cosmetics and chemical industries. Sykes is a US based BPO service provider in communication, financial and medical services, technology, transportation and entertainment. The office opened in Cluj-Napoca in September 2010 works exclusively for the South-Korean company Samsung in Europe, with focus on technical support and client service.
The HP BPO center in Cluj-Napoca works with employees in California on data center automation software sold globally and designed to help in allocating IT spend and resources based on business priorities. IT service center was opened especially for companies from Western Europe with outsourcing agreements in the country.
Other important BPO service providers with offices in Cluj-Napoca are: Bombardier Transportation, Genpact, PwC, Emerson, EXL Service and Deloitte.
Conclusions
Due to the outstanding performance of its IT&C industry, Romania has consolidated its position as an outsourcing hub in Central Eastern Europe, a region that has become the new competitor of India. Romania is home to an abundance of professionally very well prepared and highly skilled labor pool that has a better understanding of Western European culture than their Asian counterpart.
In addition to this, wage inflation and rising staff attrition are undermining India's outsourcing attractiveness and direct global outsourcing attention towards other destinations of choice. Romania is in the race to acquire a bigger slice with each year from the global outsourcing market.
The IT&C industry branch of the Romanian economy has performed constant growth in the number of jobs created and in salary levels throughout prosperity years and downturn periods, as well. According to the National Institute for Statistics IT employee salaries went up by 61% in the last five years. In comparison to this, the national average net salary grew by 21%. The numbers show that Romania is on the best way to bestride the Central Eastern European landscape. Important to note here is the fact that Romania would like to attract foreign investment by the talent, technical know-how and language skills of its human capital. Lowest prices are no longer the sales criteria given the fact that brain quality and educational background produce professionals who come up to the expectations of Google, Facebook and Microsoft. <
About the author: Tünde Székely is a Senior Marketing, Public Relations and Communications professional, specialized in the IT&C industry. She is holding a Bachelor of Arts Degree for Hungarian and German Languages and was awarded with the "Fodor Éva" Prize for Literature. Currently she is coordinating the marketing and PR activity of Codespring, a software development and outsourc- ing company from Cluj, Romania and acts as Publication Chair Romania at the German Outsourcing Association. She is a proficient user of German, English, Romanian and Hungarian languages. You may contact her at szekely.tunde@ outsourcing-verband.org or 0043 699 1130 4173.
This article was published in the Special Edition of The Outsourcing Journal, "CEE – A Colorful BPO and ITO services Landscape". You can download this issue here free of charge (85 pages, pdf) http://www.outsourcing-journal.org/Outsourcing_CEE_2013/index.html