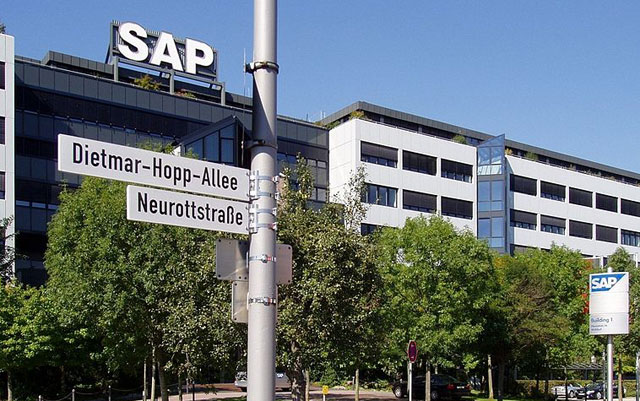 Die Rolle der Trendsetter übernehmen dabei vor allem Banken und Finanzdienstleister. Denn hier sind die umzusetzenden Anforderungen des Gesetzgebers auf absehbare Zeit komplex und herausfordernd, die Geschäftsprozesse müssen funktionsfähig sein.
Unter dem Zwang zunehmend limitierter IT-Budgets stellt sich daher nicht Frage, ob beispielsweise die Applikationen Bank Analyzer, Business Information Warehouse oder Collateral Management System überhaupt angepasst oder erweitert werden sollen. Im Mittelpunkt steht vielmehr die Entscheidung der IT, wie sich die aus Prozesssicht erforderlichen Funktionsneuerungen kosteneffizient und qualitätssteigernd realisieren lassen. Während Anwendungen und Lizenzen, zugehörige Daten und technische Infrastruktur in der Regel beim auslagernden Institut verbleiben, liegt der Fokus im IT-Outsourcing der SAP Application Management Services auf der konzentrierten Vergabe von Anwendungsbetreuung, Entwicklung und Test an einen erfahrenen IT-Provider. Punkten können jedoch nur solche Anbieter, die neben der allgemeinen technischen und methodischen Kompetenz insbesondere Mitarbeiter mit dem nötigen (bank-) fachlichen Wissen für ihren Kunden einsetzen können. Es gilt, dem Kunden die Last für operative Routineaufgaben von den Schultern zu nehmen, damit dieser sich stärker geschäftsspezifischen Fragestellungen im Sinne seiner Kernkompetenz widmen kann. Eigene Ressourcen sind dann nicht mehr dauerhaft an Standardaufgaben gebunden, das mit dem Outsourcing verbundene Risiko ist überschaubar.
Die Qualifizierung der Mitarbeiter des Anbieters wird somit zum Erfolgsfaktor im Wettbewerb: Der dafür in Frage kommende Experten-Pool ist in Deutschland allerdings begrenzt – das belegen einschlägige Marktabfragen und Stellenausschreibungen. Je spezifischer die Applikationen, die die Geschäftsprozesse unterstützen, desto spezieller und auf dem Markt begehrter ist das dringend benötigte Wissen um Fehlerbehebung, Support, Wartung, Customizing und Weiterentwicklung. Den richtigen Team-Mix auf dem Markt zu finden, ist nicht einfach, zieht doch die Nachfrage zunehmend an.
Von der End-2-End-Verantwortung des IT-Providers profitieren
Die Unternehmen können dabei vom bisherigen Outsourcing ihrer IT-Infrastrukturen lernen und dieses Modell auch erfolgreich für die Vergabe von SAP Application Management Services adaptieren. Nahezu für alle SAP-Module kann der richtige Sourcing-Zuschnitt die (eingekauften) Leistungen steigern, die Automatisierung ausbauen und die Kosten sinken lassen. Voraussetzung ist, mit verteilten Dienstleister- und Vertragsbeziehungen im Application Management Schluss zu machen. Die bisherige Vergabe einzelner Aufträge auf Basis von "time and material" ist riskant, führt zu unnötigen Brüchen und stellt sich häufig als unnötiger Kostentreiber dar. Wird das zu vergebende Volumen gebündelt, kann von einer dann machbaren End-to-End-Verantwortung mit nur einem IT-Provider profitiert werden. Der ist idealerweise im Rahmen einer Ausschreibung zu finden, denn nur im Wettbewerb lassen sich Service, Shoring und Preise am besten verhandeln. Idealerweise gestaltet sich die Ausschreibung für das IT-Outsourcing der SAP Application Management Services als klassisches "Down-Select-Verfahren". So nähert man sich Schritt für Schritt einer fachlich-technischen, wirtschaftlich und vertragsrechtlich tragfähigen Vergabeentscheidung.
Für die produktionsnahe Aufgaben ("Run the bank") sollten zudem Service Level Agreements und für die Weiterentwicklung der Software ("Change the bank") entsprechende Abnahme- und Fehlerklassen vereinbart werden, um die vom IT-Provider zugesagte Servicequalität objektiv messen zu können. Und auch hier ist Raum für weitere Optimierungen und Standardisierung und Abläufen und Leistungen zu lassen – auch während der Vertragslaufzeit. Der beauftragte IT-Provider kann durch ein Incentivierungs-Modell an den von ihm identifizierten und entwickelten Verbesserungen auch kommerziell profitieren. Denn: Outsourcing ist auch bei den SAP Application Management Services in der Regel eine auf Dauer angelegte Partnerschaft.
Autor: Stefan Wendt, Principal Consultant und Projektleiter bei der Unternehmensberatung microfin