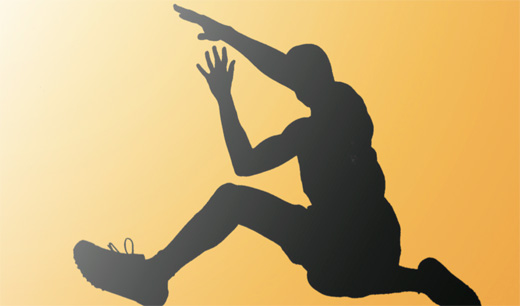 One option would be to outsource the entire process, end to end. But this is not the way most providers, or customers, approach it. Business Process Outsourcing (BPO) to locations such as India is traditionally associated with simple, discrete, task-based processes and systems — and with short-term cost-reduction efforts. As a result, core BPO often fails to align with the business and its long- term objectives. A BPO provider might deliver the promised process efficiency, but it is still far from capable of delivering long-term improvements or supporting step-changes in how the business as a whole operates. And, perhaps of more concern, service providers that only work on short-term, tactical, cost-reduction-focused projects have little ability or opportunity to collaborate with you in sharing risk and reward for the future.
Standing still is not an option
When companies keep their relationships with offshore providers firmly at the nuts-and-bolts level of operational processes, they fail to unlock the true potential of outsourcing. And BPO is now changing quickly. In modern cloud-enabled business environments, a new type of outsourcing relationship is emerging – with India taking the lead.
These new outsourcing relationships take BPO to the next level: Business Process Services, or BPS. BPS marries the process and technology with the people who run them. It covers everything from simple task-based processes (like payment processing or document management) all the way up to the knowledge-intensive, industry-specific processes that traditional BPO doesn't usually touch. It covers any mix of people, processes and technology — not just the technology systems that carry out the processes.
BPS has three key service models: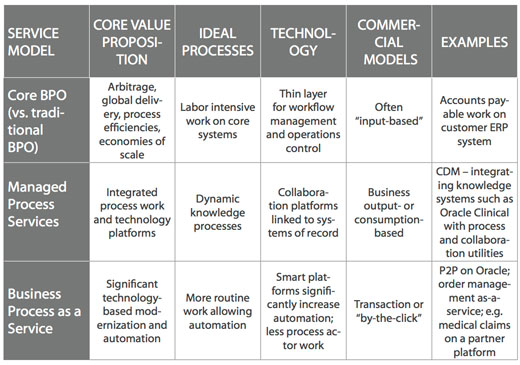 Traditional BPO maintains a strong focus on cost savings. It does not attempt to make wholesale changes to the way things are done. This strong focus on the tactical level and on cost savings certainly makes sense for many scenarios. BPS approaches things from a somewhat different perspective, integrating multiple platforms and processes as shown above. A provider who takes responsibility for an entire process (not just individual systems or stages) can offer new, business-outcome-based metrics for those processes. Instead of measuring a billing system's uptime, the headcount of the order processing team or even the cost of processing an order, for example, a BPS provider can measure order completion rates, on-time delivery and billing accuracy.
The power of BPS is that it can unlock previously hidden value. The traditional focus in BPO is to create value through efficiency gains in the process itself. BPS focuses on other issues outside the process boundaries, also looking at ways to do raise efficiency and effectiveness by looking at other factors that affect outcomes. In an account engagement, for example, it can generate value through managing working capital more efficiently, by reducing days sales outstanding (DSO) and identifying possible fraud scenarios, among other top priorities.
Raising the bar from tactical BPO to strategic BPS
To get the big-picture view of how complex processes can be improved through a holistic view of people, process and technology, it is necessary to engage with a BPS provider at a strategic level – in other words, as well as seeking to optimize costs, enterprises might benefit from investigating the entire direction their processes are taking, and exploring whether their processes could be performed fundamentally differently.
Of course, to understand how your enterprise works as a whole, and how processes operate from start to finish, the service provider has to appreciate not just process theory and your business strategy, but also the industry in which you operate. And you can benefit from the cross-industry experience of your BPS provider. Innovation and advantage can often come from looking outside your industry, while less observant competitors will fall behind. So if you are a retail bank, BPS can help you investigate what you can learn from, say, how supermarkets keep customers loyal. If you run sports facilities, why not incorporate techniques that airlines use for optimizing capacity planning? If you are in manufacturing, your warranty claims systems probably have a lot in common with insurance claims processing.
Take the next step
When business practices, technology and customer needs are changing so rapidly, your success — even survival — depends on making sure that your business is keeping pace. But since business resources are limited, those companies that resolutely focus on what their customers are demanding are the ones that get ahead.
Anything that doesn't contribute to your customer obsession is a candidate to be outsourced. BPS is becoming the new way for organizations across industry and functional silos to lash together more effectively the collective strengths of global talent, standardized processes and the latest technology to deliver continuous business impact.
The right choice of provider will make all the difference. The best will take ownership of your processes, understand how your processes contribute to your business, and be prepared to invest in continual improvement of service delivery and management, through innovative mixes of people, process and technology. And, most importantly, you need to be looking for a BPS provider who can show you tangible results — both with cost savings and real enhanced revenue streams — and is happy to bet on those results with gainsharing terms in their contracts.
The author: Dieter Berz is responsible for Cognizant's operations in Germany and Austria and joined Cognizant in 2006 from Accenture. Having started his career at a French insurance group, he held management positions in service providers and management consulting firms working across Europe in Germany, Belgium, The Netherlands, The UK and Ireland. Dieter holds a MA in social science, political science and philosophy from Saarland University, Germany after completing an apprenticeship in wholesale and foreign trade. As an active member of DIN and ISO committees, he contributes to the global initiative to standardize the outsourcing lifecycle.
This article was published in the special edition of The Outsouricng Journal "Outsouricng India" (Autumn 2012). You can download the issue here.