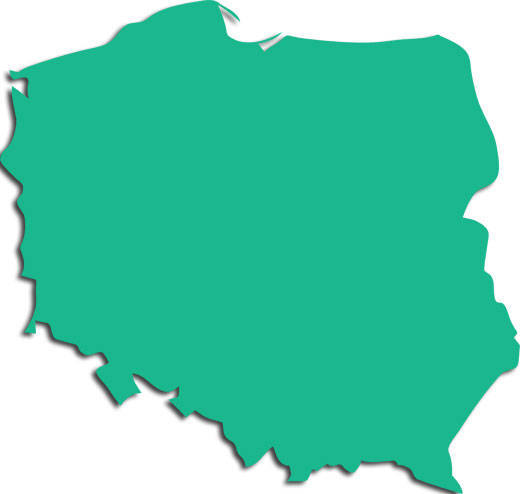 Polish government as well as individual cities are very much interested in new investments from Business Process Outsourcing, Shared Service Centers as well as ICT sectors, but also on promoting the excellent skills of local service providers, which could be used by foreign companies from US, Western Europe or Scandinavia.
According to Polish Agency of Information and Foreign Investments (PAIiIZ) "economic and political stability, vast talent pool, location of the country, cost efficiency and available incentives make Poland an attractive Business Support Services (BSS) destination. The number of new jobs in BSS has doubled since 2008 and exceeds 100 thousand employees! Not only is Poland the first choice in CEE for captive nearshore centers, but also for BPO vendors who see increasing interest among their Polish clients. BPO sector is to reach 3,6 bn EUR in 2013, witnessing double-digit mid-term annual growth rate. The sector strength is also reflected by PAIiIZ statistics: more than 60 out of 153 (40%) assisted by the Agency are SSC, BPO, ITO or software development projects. PAIiIZ helps foreign investors by providing information, advising on business location and obtaining incentives. Incentives scheme covers tax holidays and cash subsidies, financed from both EU and internal funds."
There are currently operating over 400 foreign BPO or SSC Centers in Poland, most investors came from US, UK, Germany but also India and other Countries. There are also hundreds of local-Polish service providers very well prepared to provide a wide range of services including finance and accounting, accounts receivables, multilingual call and contact center, research and development as well as a full scope of IT services. Small, Medium and Large companies are experienced in computer and mobile software development, programming, data hosting and other services.
Poland has 16 voivodeships (administrative districts) and nearly in each of them professional outsourcing services are provided.
Besides Krakow, mentioned in the beginning, cities like Poznan, Lublin, TriCity (Gdansk, Gdynia, Sopot), Lodz or Szczecin are worth to be mentioned. Poznan, Lodz and Tricity are already considered as very attractive BPO destinations. Each of this cities has well developed A+ class office buildings, large pool of multilingual students, graduates and employees and very modern IT and telecommunication infrastructure.
Two more cities – Lublin on the Eastern boarder of Poland and Szczecin on the Western boarder are keeping up with a fast development within the last few years. Szczecin with its location close to the German border is attractive for the DACH region and Scandinavian investors. On the other side of the country Lublin, in Eastern Poland offers very cost effective investment and services opportunities.
It is worth to mention that Eastern Poland is the region with the lowest employment costs and also with large potential for outsourcing activities, especially in ICT area. The most interesting locations in this region are already mentioned above Lublin, Kielce and Olsztyn, but also Bialystok (north-east), Rzeszow (south-east) and Przemysl (south-east).
Main outsourcing destination cities
Krakow (south), Wroclaw (south-west), Warsaw (center), Lodz (center), Tri-City, i.e. Gdansk, Gdynia, Sopot (north), Poznan (west), Katowice (south), Szczecin (north-west)
In addition to the main locations, there are a couple of others, yet less explored destinations for IT and business services in Poland: Lublin (east), Olsztyn (north-east), Opole (south), Kielce (east-center), Bydgoszcz (center), Torun (center) and Radom (center)
Human Resources
In 2011 there were in total 497 533 graduates in Poland, among whom 74 500 are technical, and 86 300 are economic graduates, divided among the larger cities in Poland. Graduates show well developed foreign language skills. The most common foreign language is English, followed by German, French, Spanish, Italian and Russian. In the most advanced outsourcing centers services are provided in more than 20 foreign languages including all European but also Asian or African languages. All leading global providers of HRO and RPO services have their offices in Poland, offering recruitment, HR leasing but also professional external employment and contracting services.
The level of salaries is different depending on the city but the average for Poland is monthly gross wage circa 840 Euro, while minimum monthly gross wage in 2013 is PLN 1.600, which is circa 380 Euro.
Associations and Outsourcing Organizations
In Poland there are well organized, experienced and fast growing professional outsourcing industry associations and organizations. The most important are:
Pro Progressio – The organization is widely open to outsourcing industry, including BPO/ SSC, ITO, HRO, KPO, R&D, Software Developers, Sales Force Outsourcing, Car Fleet Management, public sector, special economy zones, technology parks and many others. Pro Progressio manages outsourcing industry media in Poland, which are www.OutsourcingPortal.pl and Outsourcing&More magazine. Pro Progressio is also the Partner for the German "Outsourcing-Verband" in Poland. www.proprogressio.pl
ASPIRE – located in Krakow, representing the group of over 100 members mainly from Krakow, Katowice and Lublin. ASPIRE is a part of the Central & Eastern European Outsourcing Association. This is very well performing organization and running a number of industry initiatives. www.aspire.org.pl
ABSL – with group of circa 70 members with local chapters in various Polish cities. ABSL is also present in Romania and will grow its presence in other CEE Countries. ABSL is supporting the dynamic growth of the business service sector. The main areas of Association's activities are: HR, law, economic and PR. www.absl.pl
Important outsourcing events in Poland
– Annual Polish Outsourcing Forum organized by Roadshow Polska
– Annual ASPIRE Conference – Annual ABSL Conference
– Cycle of conferences "Prospects in Poland" organized by Bluevine
– Starting from Q4 2013 cycle of Pro Progressio events and outsourcing networking meetings
Important outsourcing industry media
OutsourcingPortal – www.outsourcingportal.pl
Outsourcing&More Magazine – www.outsourcingandmore.pl
The author: Wiktor Doktór is an Outsourcing, BPO and Call Center industry expert. Over 10 years' experience in start-up's and managing large operation centers. Experienced speaker, author of various publications, innovator and industry networker. Author and administrator of OutsourcingPortal and Outsourcing&More – the only Polish-English outsourcing industry media run in Poland. CEO of Pro Progressio – Foundation supporting growth and development of the outsourcing industry and outsourcing education in Poland. Wiktor was twice nominated to the title of the Best Manager in Lodz Region (2011, 2012) and has been named as one of the most influential outsourcing person in Poland (2010, 2011). On June 2013 Wiktor has been appointed by ABSL as Personality of the year in the outsourcing sector (for creating the platform of cooperation for companies from the sector, know-how sharing among its members and rising awareness of its importance for Poland's development)
This article was first published in the Special Edition of The Outsouricng Journal "CEE – A Colorfurl Outsourcing Landscape", which is available for free download here (PDF, 85 pages)