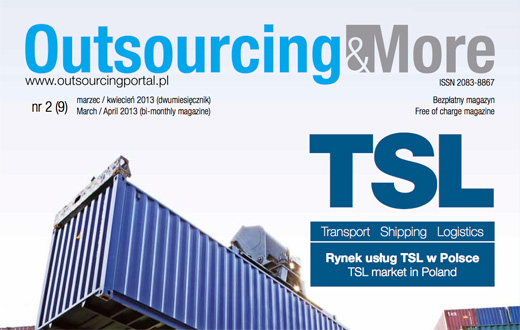 It has become our tradition to describe individual sectors of the outsourcing industry in more detail. This time we focused on TSL – Transport, Shipping and Logistics. Thanks to coope­ ration with the PIFFA ­ Polish International Freight Forwarders Association, we are able to present you with materials descri­ bing the market for these services in Poland along with many interesting publications. Additionally to the PIFFA materials we have added more information submitted by such compa­ nies as Fracht FWO Polska, Rohlig SUUS Logistics and SIXT Polska.
> Download this issue here fro free and enjoy your reading.
Dymitr Doktór, Editor
About: Outsourcing&More is bimonthly free of charge magazine. See the website www.outsourcingandmore.pl for more details. Outsourcing&More is a partner media of The Outsourcing Journal. To learn more about Poland as outsouricng destination please visit the pages of the German Outsourcing Association (Deutscher Outsourcing Verband e.V.) > www.outsourcing-verband.org
Further the Polish outsourcingportal provides news, information and contacts from the Polish market.