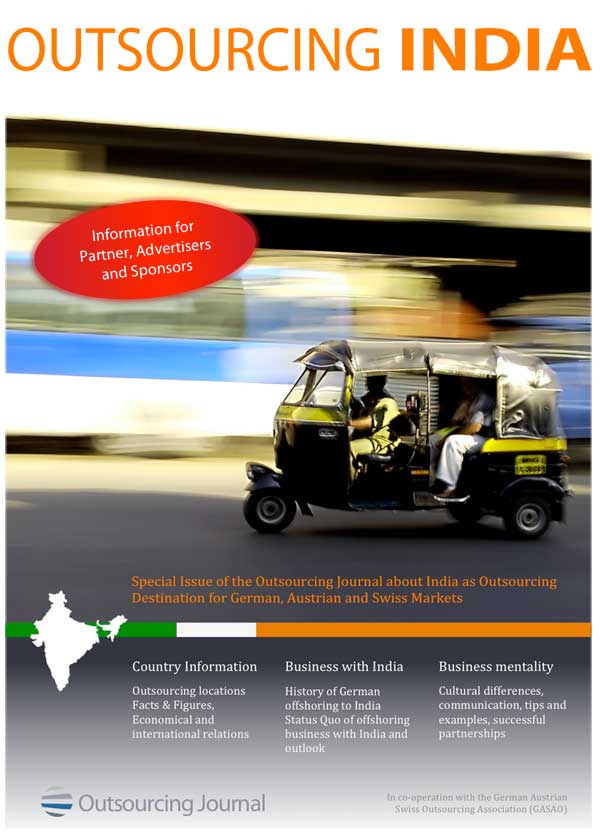 Content:
India – Economic Key figures and Indian-German Relations
Stephan Fricke, Publisher Outsourcing Journal
The History of IT-Offshoring to India in Germany
Debjit D. Chaudhuri, Founder and former director of Infosys Germany
IT-Offshoring of German Companies to India – Study Results
Artur Strasser, University of Hannover Competence Center for Project Management
Status Quo Offshoring Germany – India
Gunjan Bhardwaj, Honorary representative India, Head India Competence Center, Baden Württemberg International
Locations in India – A Comparison
Outsourcing Journal Germany via FCT Academy, Angela Portner
Kerala – Boom-region for IT-Services
Binu Sankar, Chief Executive Officer, Group of Technology Companies GTech – (to be confirmed)
Culture and Business Mentality – Get Prepared, Blended Learning
Anita Shukla, Intercultural Trainer and Advisor, General Chair India-Outsourcing Council of the GASOA
The India-Outsourcing-Council
Stephan Fricke, CEO and Head of Advisory Board, German Austrian Swiss Outsourcing Association (GASOA)
Company Profiles – Reserve now, limited space! > More Info in the PDF Flyer
Short-profiles of Indian Outsourcing service provider, advisors and organizations
Presentation Opportunities for Provider, Advisers and other Organizations
This issue offers unique presentation and advertising opportunities. Download the flyer or contact us for further information
About this special issue
Users of outsourcing services in Germany, Austria and Switzerland receive for the first time important references and tips for evaluating outsourcing projects to India, the transformation of processes and services as well as for the co-operation with Indian service providers.
India is one of the most important trade partners of the German economy and Indian companies have been a reliable provider of business and IT services for the last couple of years.
The German market for outsourcing services has a current volume of about 50 billion EUR (incl. consulting) and will reach 60 billion EUR in 2015. About 20% of the demand comes from mid size companies (up to 1000 employees) with an expected growth of about 5%. Large companies take about 40% of the market, but show only an average growth. A recent market study shows further that 38% of the companies plan to outsource to offshore destinations or combine onshore and offshore outsourcing.
With this strong trend of outsourcing IT and business services in Germany, Austria and Switzerland, we see at the same time a growing demand for information about outsourcing destinations and for contacts to qualified service providers.
The German, Austrian, Swiss Outsourcing Association is the main information, knowledge and network provider in its region and co-operates closely with the Outsourcing Journal in order to deliver comprehensive information and a qualified network to advisors, providers and other organizations.