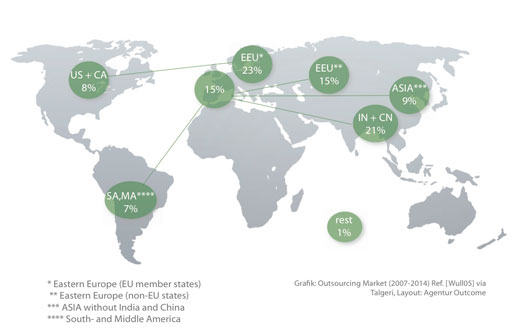 Since last five years Europeans consider Outsourcing to Asia as a trivial process. China, India and Eastern Europe have emerged as important outsourcing hubs. The benefits of outsourcing are manifold but the main reasons of outsourcing strategy are to get the advantage of lower costs, increased efficiency and getting access to new markets.
As a result of the need to outsource, several regions are showing signs of significant growth and are becoming outsourcing hot spots. China and India are the two largest emerging markets in Asia. However, Eastern Europe is also proving a hot spot, with countries like Poland demonstrating the capability to become a new outsourcing hub in Eastern Europe.
According to recent studies "The number of companies sourcing from China, India and Eastern Europe has increased significantly in the last five years and will continue to rise in the future," [Gart10] Interestingly, a recent study by Gartner Research has revealed that both India and China are the largest countries in offshore outsourcing. What the report also reveals that was not predicted, perhaps even just a few years ago, is that several other countries in the Asia Pacific region are strengthening their positions. "While India is top of the 10 Leading Locations for Offshore Services in Asia Pacific and Japan for 2012, Malaysia, the Philippines and Vietnam are likely to become competition. Meanwhile, Indonesia has entered the top 10 for the first time."
Outsourcing Market
According to Gartner Research Group, the global outsourcing market continues to grow with a forecast growth rate of more than 8 percent yearly. Outsourcing can be classified into two categories: depending on Geographical location of the country or depending on type of Branches (IT or Engineering).
Pressured by market forces to reduce costs, many European countries have been moving IT and manufacturing to Asia. In that case they are confronted with the problems like distance to Europe, difference in mentality and culture.
The illustration above shows the planned outsourcing projects during 2007 and 2014. Click here to enlarge picture.
This illustration shows that 38% of enterprises want to outsource to east part of Europe and 30% to Asian countries. Following European countries are favoured for outsourcing. Czech. Republic, Hungary, Ireland, Spain, Poland, Rumania, Ukrainian.
Within Asia the important countries are India, China, Philippines, Malaysia.
Offshore companies try to combine lower labour costs with distinctive skills. Low wages allow offshore companies to hire more middle level managers, who can then devote more time to building the skills of their employees and to improving their processes than would be economical for most Western companies.
The range of outsourcing involves in the first place standard processes in each branch. This reflects on volume of outsourcing in these branches as follows [SoKo06: 3].
1. Banks, Insurance und Finance sector 35%
2. Telecommunication und Information Technology (IT) 25%
3. Manufacturing Industry 15%
4. Retail Industry 7%
5. Transport & Sport 5%
6. Miscellaneous 13%
The process of globalisation in manufacturing is an epicentre in the economical growth of world trade. The result is the emergence of new markets and at the same time the competition becomes hard. On one hand Entrepreneur want to reduce the cost of production and at the same time they want to get access to new markets and resources. The important criteria for outsourcing decision in manufacturing are:[KPMG06: 3], [Econ05]):
Empirical result in % of surveyed manufacturing companies:
1. Cost of wages 67%
2. Distance to important sales market 57%
3. Infrastructure for transport 51%
4. Access to professional employees 50%
5. Quality of supplier 32%
6. Advantageous legal terms and parameters 23%
Read the entire article at the special edition of the Outsourcing journal "Outsourcing India"(Autumn 2012) – pages 26-30, which you can download here free of charge.
The Author: Dr. Vinod Talgeri, Managing Director of TC TALGERI CONSULTING, Studies: IIT Bombay (B.Tech.), Stuttgart University (Dipl-Inform., Masters Degree in Computer Science and Management), Stuttgart University (Dr.-Ing.) Doctorate in Production Engineering. Nationality: German, Companies worked for: Siemens, Apollo, Hewlett Packard, Intergraph, Silicon Graphics. Contacts in the Fields: Automotive (DaimlerChrysler, BMW, Volkswagen, AUDI, GM-OPEL), Engineering (mechanical, electrical, metallurgical, chemical, aircraft), Energy, Siemens, Healthcare (Siemens Medical), Banks and Insurance Companies. TALGERI CONSULTING, Dr.-Ing. Vinod Talgeri, Marbacher Weg 42, D-74321 Bietigheim, Germany www.talgeri-consulting.de