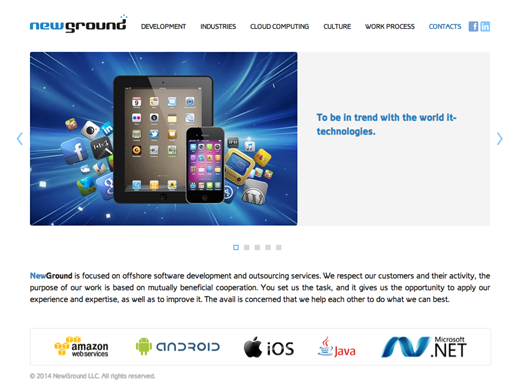 Today, software development outsourcing is one of the most demanding business fields in the Ukraine, so it is not surprising that Ukrainian programmers are in demand on the international markets.
However, apart from the availability of highly qualified specialists, there are also important factors leading to successful collaboration: the service provider must take much care on achieving final success with the client's project, the service provider must be interested in being involved in making decisions on technological solutions, the service provider is expected to carry out successful communication. The combination of these factors gives the software company a good chance of finding a partner on the market.
"Joining the Association is one of the steps that show the company's aim of improving their working procedures on the European market" – the director of the company, Yevheniy Rodin said. He emphasizes: "NewGround does not aim to compete with large companies on the software development outsourcing market; the company is most interested in productive work on interesting projects with reputable conscientious customers. In the near future we plan to have representatives on the Western European market, to get closer to our new and existing clients."
NewGround was established in 2000. Now it is a dynamic organization which provides high-functional IT solutions for the B2B segment.
NewGround – a strong team of professionals which produces high-quality products: the company has experience in implementing projects in the field of high performance computing systems, CRM and ERP-applications, automated systems for logistics, and mobile business applications.
We invite you to visit the NewGround website http://www.newground.ua/
Text, picture: NewGround
DEUTSCHE VERSION
Die ukrainische Firma NewGround LLC erweitert ihre Präsenz auf dem Software Entwicklungsgebiet auch auf dem deutschsprachigen Markt. NewGround ist ein neues Mitglied des Deutschen Outsourcing Verbandes.
NewGround wurde Mitglied der Gesellschaft im September 2013. Die erste Zusammenarbeit mit Partnern aus Deutschland begann im Jahr 2000. Heutzutage ist NewGround stolz darauf, ein Partner von Firmen aus Österreich und der Schweiz zu sein. Kunden der Firma NewGround sind unter anderem: BMW, Toyota, Mitsubishi Motors, Peugeot, Nokia und Microsoft. Heute ist Outsourcing der Software-Entwicklung eines der anspruchsvollsten Geschäftsbereiche in der Ukraine. Daher ist es nicht überraschend, dass Dienste von ukrainischen Programmierern auf den internationalen Märkten gefragt sind.
Zusätzlich zu der Verfügbarkeit von hochqualifizierten Fachkräften gibt es weitere wichtige Faktoren, die zu erfolgreicher Zusammenarbeit führen: der Dienstleistende muss dafür sorgen, dass er das Projekt seines Kunden erfolgreich durchführt, der Dienstleistende muss auch bereit sein, in Zusammenarbeit mit dem Kunden Lösungen für technische Probleme zu finden und es wird erwartet, dass er mit dem Kunden erfolgreich kommuniziert. Die Kombination dieser Faktoren eröffnet dem Software-Anbieter gute Chancen, einen Partner auf dem Markt zu finden.
"Die Mitgliedschaft im Deutschen Outsourcing Verband, ist einer der Schritte, die unser Ziel zeigen, unsere Arbeitsmethoden auf dem europäischen Markt zu verbessern." – sagt der Geschäftsführer der Firma, Yevheniy Rodin. Er betont: "NewGround hat nicht das Ziel, mit großen Firmen auf dem Software-Entwicklung Outsourcing Markt zu konkurrieren, die Firma interessiert sich hauptsächlich für erfolgreiche Arbeit an interessanten Projekten mit seriösen Kunden. In der nahen Zukunft planen wir, Vertretungen auf dem Westeuropäischen Markt aufzubauen, um neuen und bestehenden Kunden näher zu kommen."
NewGround wurde im Jahr 2000 gegründet. Sie ist eine dynamische Organisation, die fachliche IT Lösungen für das B2B Segment liefert.
NewGround – eine starke Mannschaft mit Experten, die hochwertige Produkte herstellen. Die Firma hat Erfahrungen mit Projekten auf dem Gebiet von Hochleistungs-Computersystemen, CRM und ERP-Anwendungen, automatischen Systemen für Logistik und mobilen Geschäftsbereichen. Wir laden Sie ein, die NewGround Website zu besuchen http://www.newground.ua/
Text, Bild: NewGround