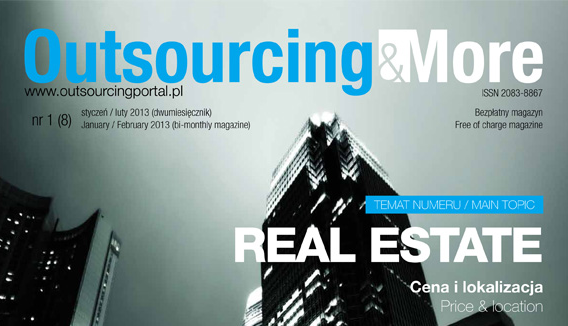 Last year Outsourcing&More Readers were presented the investment values of nearly 45% of Polish Regions. Among described cities there were included TriCity (Gdansk, Gdynia, Sopot), Warsaw, Cracow, Lodz, Poznan and Wroclaw, and a little bit earlier on (2011) Szczecin.
The main city described in current edition of Outsourcing&More is Lublin – the city of many values, hungry of new investments and getting ready for new investors, also for those from the outsourcing industry. The material concerning Lublin starts with the interview with the President of Lublin – Mr. Krzysztof Żak followed by other publications concerning readiness of the City and Region for support provided to BPO/SSC industry. It is worth to underline, Lublin is the first city representing Eastern Poland, which is described in Outsourcing&More.
Between many articles there is a set of publications concerning real estate and property market, presented from the perspective of outsourcing industry needs. Furthermore there are collected relations from some most interesting industry events, which took place in the last two months of 2012.
Thanks to the information forwarded by Invest In Poland Agency there are included the newest industry investment data, which are enriched with info-graphics of the scale of outsourcing industry queries in Poland.
Outsourcing&More continues to present the practical advices and business cases and in current edition of the Magazine you can find the publications prepared by the Law Firm "Chudzik i Wspólnicy" as well as 4Results Company.
Brand new Outsourcing&More is presented in changed format, wishing you nice reading and many successes in 2013.
Feel free to download your free copy and follow the LINK