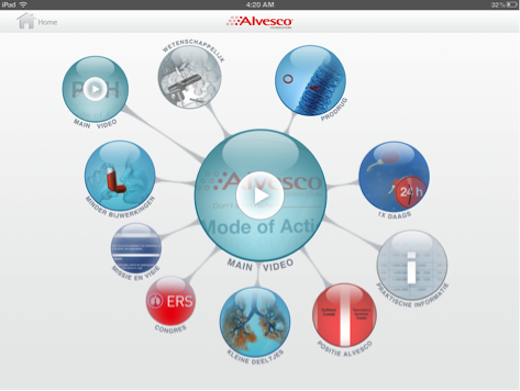 Medication schedule management
Cancer treatment is a very complex and painful process demanding the highest level of accuracy from both physician and patient. And it is also an area where mobile technology can assist with treatment. Regular smartphones can be converted into effective medication schedule managers. This involves a straightforward process; simply select your cancer type and treatment plan, point to a start date, and make sure your device is in close proximity in order to see/hear reminders and notifications. Either patient or caregiver may add additional days and times for further dosage if required.
The software also enables a user to mark each in- take as "done" after receiving medication. This al- lows a user to share intake reports with their doctor at a later date either via e-mail or during personal meetings.
Tracking symptoms history
The tracking symptoms log included in the application is very important with regard to cancer treatment. Symptoms such as nausea, pain, fever, fatigue, lack of appetite, and any others that a user may wish to track, can be logged and showed to a doctor during a meeting or sent via e-mail. For more convenient use, symptoms history can be displayed in tabular or diagrammatic form. There is also an option to compare symptoms logs over certain user-defined periods of time; e.g. for this month and last month.
Tracking blood count
Some cancer treatments, such as chemotherapy or radiotherapy, may damage not only cancerous cells but also normal body cells including blood cells. This means that tracking blood count and comparing both current and old results is important for planning appropriate treatment. Within a mobile app, users have the option to add blood count data and take pictures of blood inspection results. Data can be made available in both text and tabular for- mat, and again the option is made available to com- pare old and current results.
Reach the doctor easier
The modules described above not only enable a user to cope with cancer treatment, but also to pre- pare valuable information for an appointment with a doctor. To make appointments more effective and informative, users can type or voice record their questions beforehand. During the meeting, users have the option to type or voice record a doctor's answers as well. When the FAQ database is avail- able, users can browse it through a mobile device to see available answers and adjust their questions appropriately.
Receive up-to-date information
Cancer is one of the most researched medical conditions in the world, and those who have contracted it often desire to be kept informed about the most up-to-date information and cure recommendations. When a healthcare organization has a good and reliable source of information we can provide app users with structured access to it. Users can select the type of cancer that they have, and receive related information. This may also be helpful with regard to preparing for a doctor's appointment.
Stay connected with community
It's easier to cope with a problem when you know that you are not alone. Access to a community, the ability to ask questions, the opportunity to read success stories, and to be able to participate in a community information exchange is extremely important in a cancer sufferer's battle to stay positive. Thus, this module is a very valuable addition to a companion app for people struggling with any serious long-term disease.
Surveys show that mobile tools have become more and more important, not only for patients, but for doctors as well. Recent research conducted with Dutch physicians revealed that 60% of doctors use medical apps on their tablet PCs/smartphones. 83% of them use apps to get information, 47% utilise them for reference purposes, and about 40% use them for support in consultations (source: www.wydo.org) Pan-European research shows that physicians use iPads for 27% of their professional online time (source: www.velositor.com). But how do doctors use their mobile devices in their work hours?
Quick units conversion
The opioids conversion tool is a very good example of a units conversion app. This tool allows a user to calculate the amount of opioids in different medications and prescribe appropriately.
Structured information presentation
This is perfect for pharmaceuticals companies' sales representatives, or for anyone preparing to give a speech. Information is structured to allow presenters to work with big or small audiences, with a singular tool that includes a broad range of multimedia materials.
E-learning
Informational games are widely used by pharmaceuticals companies' representatives to hold seminars, conferences, work with patients, and so on.
To learn more amazing examples of what mobile platforms can do for healthcare, watch the recent online presentation of Dr. Eric Topol, who speaks about the incredible opportunities for healthcare that emanate from mobile technologies on www.nbcnews.com.
About the author: Michael Grebennikov, outsourcing expert; co-founder and managing partner of Migrate2Mobile, a mobile development agency specialized in tablet publishing and mHealth systems development. www.migrate2mobile.com
This article was published in the Special Edition of The Outsourcing Journal, "CEE – A Colorful BPO and ITO services Landscape". You can download this issue here free of charge (85 pages, pdf) http://www.outsourcing-journal.org/Outsourcing_CEE_2013/index.html