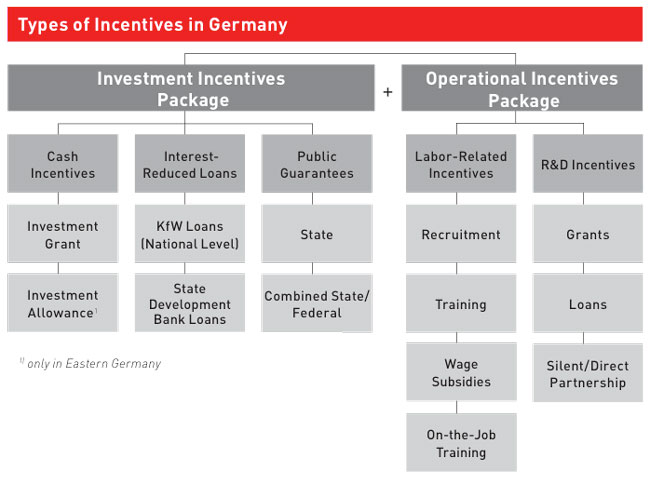 Eligible industries include most manufacturing and certain service industries. Generally speak- ing, investment projects receiving funds from the Joint Task program must create long-term jobs (i.e. any jobs created have to remain in the investment location for a period of at least five years on completion of the investment project). Please note that investment incentives have to be applied for before the investment actually commences.
Calculating Investment Grants: Payroll Option In the case of wage costs, the jobs created must require above average skill levels, provide significant added value or be jobs in a sector with particularly high innovation potential. Generally, payroll-based grants are selected in those cases where investment costs for buildings, machinery, and equipment are relatively low but salary expenditures are comparatively high. In such instances, the calculation basis would not be the total investment costs, but rather paid salaries over a two-year period. The actual incentive amount granted varies from region to region subject to respective economic development level. Those regions with the highest incentives rates offer grants of up to 30 percent of eligible expenditures for large enterprises; up to 40 percent for medium-sized enterprises; and up to 50 percent for small enterprises respectively.
Supporting Human Resources Growth Labor-related incentives play a significant role in reducing the operational costs incurred by new businesses. The range of programs offered can be classified into four main groups: programs focusing on recruitment support, training support, wage subsidies, and on- the-job training.
Labor-related incentives are avail- able throughout Germany; independent of factors such as company size, industry sector, and investment project location.
Recruitment Support
With over 800 local job centers located across Germany, the Federal Employment Agency assists companies in finding new employees. Regardless of the qualification or experience level required, job centers offer a highly competent and professional service as well as market expertise to help identify prospective employees in all sectors. Assistance provided covers every- thing from job vacancy advertising and pre-selection of candidates (i.e. assessment centers) to the provision of facilities for conducting job interviews. Because job centers are state-funded institutions, all services are provided entirely free of charge. As such, initial recruit- ing costs incurred by the investing company are negligible.
Pre-Hiring Training
Prospective employees often need to participate in appropriate training measures before starting at their new place of work. Such measures can be organized and administered by external specialist institutions. In general, training program costs of up to 100 percent can be met by regional program managing authorities. This measure is targeted at previously unemployed candidates.
Wage Subsidies
Employers can be granted a direct cash payment paid as a proportion of the employee's wage. Grants can account for up to 50 percent of wage costs including social security contributions. They may be provided for a period of up to 12 months. Wage subsidies are granted
when hiring from the long-term unemployed. When hiring people who are long- term unemployed, have disabilities or who are older, wage subsidies can be raised to a maximum 70 per- cent of wage costs paid for a period of up to eight years. Wage subsidies are generally allocated if investors provide long-term employment contracts. Please note that wage subsidy applications should be made in advance of the contract being signed.
On-the-Job Training The German federal states and the European Social Fund offer a variety of on-the-job training programs. Companies can be supported with subsidies covering up to 50 percent of all training costs. European Union authorization is required if the amount awarded to a single company exceeds EUR 2 million.
Quelle: Industry Overview BPO & Shared Services April 2010 by GTAI
Germany Trade and Invest Gesellschaft für Außenwirtschaft und Standortmarketing mbH,Friedrichstraße 60 – 10117 Berlin Germany,
T. +49 (0)30 200 099-555
F. +49 (0)30 200 099-999
E-mail: request@gtai.com