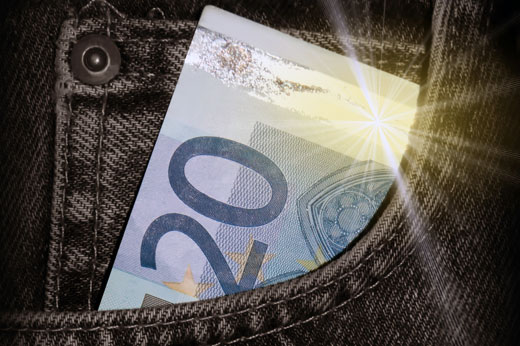 Most outsourcing organizations understand how incentives could motivate and drive the intended behavior from service providers. It is important to understand that incentives, per se, do not change the service providers' utility function, but rather incentives maximize the overall outcome by changing service providers' constraints. The challenge is establishing the right incentive structure to motivate all the involved parties to direct effort that will help the client organization achieve its business outcomes. Hence, incentive based pricing also serves as a governance tool. It is, however, important to note that profit sharing and value sharing methods employed as incentives cannot be equated or enforced among all parties. It becomes, therefore, important to understand value-drivers and motivators among the service providers to set up the incentive structure.
Shared risk-reward pricing model
Shared risk-reward pricing model is a flat rate pricing structure in which additional payments are based on achieving specific stated objectives. Appropriate for enhancement and transformational sourcing. This model is usually employed in situations where the service provider and client jointly fund new product or service development. Under this constellation, the service provider and the client share the rewards for an agreed period of time. All participating organizations agree to monitor and evaluate the project in an objective and unbiased manner using standardized set of metrics applicable to all involved parties. In some cases, a third uninterested party may need to be brought in to serve as an arbiter in case of conflicts. Hence, this model resonates very well among customers with a degree of governance considered mature enough to facilitate joint venture or partnerships with service providers on strategic projects. It is, therefore, important that the client organization shares both upside or downside benefits with its collaboration partners.
Summary
In summary, an effective pricing contract is a basic component for continued long-term success in an outsourcing relationship. Success or failure in a relationship could often be traced back, in part to due diligence, or a lack thereof, in the underlying cost and pricing structures enumerated in the contract. A good pricing structure will create the required governance mechanisms that align interests of all stakeholders, fairly distribute risk, and cohesively manage expectations across all players in an outsourcing engagement. A misinformed contract only fosters mutual mistrust and leads to mismatched incentives, inefficiency, and unpredictable expenditures. Regardless of the pricing contract structure, the underlying principle of cost + margin = price should be respected as a fundamental reality to contract and pricing. This ensures that the services are correctly priced and a fair margin for the supplier that aligns interests, while incentivizing quality and delivery. Both are necessary for a successful outsourcing relationship.
> Missed the previous parts of this series? Read them exclusively here
Part 5: Pricing Models: Consumption-based pricing model & Profit sharing pricing model
Part 4: Time and Materials (T&M) model
Part 3: Cost reimbursable model
Part 2: Fixed price (FP) model
Part 1: Staffing Model
> Download the paper including part 1 to 6 here
About the author: Mithun Sridharan is a General Manager at BlueOS LLC, an advisory based in Germany, where he is res pons ible for driving the s trategic s ales initiatives and managing cus tomer engagements in Digital transformation & Analytics. Prior to BlueOS, he was an Account Manager with Oracle Corporation, where he drove strategic partnerships with key enterprise accounts and major Independent Software Vendors in Europe and the USA. He brings with him over a decade of International experience in Management Consulting, Business development, Strategic Marketing & Product Management. He holds an MBA from ESMT Berlin and a Master of Science (MSc) from Christian Albrechts University of Kiel. He is a Harvard Manage Mentor Leadership Plus graduate, an SAP certified Business Intelligence Professional, a Project Management Professional (PMP) and a Certifed Information Systems Auditor (CISA). He also served as the Communication Chair for the German Outsourcing Association in 2013 and is based in Heidelberg, Germany.
Contact: Mobile: +49 176 9792 4897 eMail: mithun@gmx.net
LinkedIn: http://de.linkedin.com/in/mithun Twitter: http://twitter.com/jixtacom