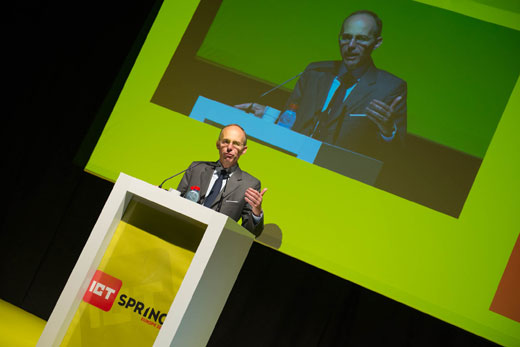 Farvest Group is proud to announce that ICT Spring Europe 2013 was, this year more than ever, one of the most inspiring technological event in Europe. The two-day event welcomed 3,300 visitors from all over the world in Luxembourg, in the heart of Europe, on June 19 and 20. 1,200 professionals attended the Networking Cocktail, and 700 of them took part in the European ICT Awards Dinner opened by Xavier Bettel, Mayor of Luxembourg City. The winners of the European ICT Awards were announced during the Dinner. These awards aim at rewarding the best practices in the ICT field. 3 awards were attributed by the jury: European CIO of the Year, European ICT innovation of the Year, and European startup of the Year.
The professionals looking for the latest ICT innovations – CEOs, CIOs, entrepreneurs, e-marketers, tech decision-makers, government representatives, municipalities, etc. – enjoyed the opportunity to attend lectures given by internationally renowned speakers and to discover the state-of-the-art solutions showcased on the exhibition venue. This year's key topics included Digital 2020, Speed Up ICT, Social Challenges, and Finance & Security.
Luxembourg, the ideal platform for creation and innovation
ICT Spring Europe is a two-day event that brings together the latest ICT technologies and solutions available on the market, entirely dedicated to innovation, in an interactive, enriching and convivial atmosphere. It is not surprising therefore that the conference is organized in Luxembourg, a place with state-of-the-heart ICT infrastructure, highly skilled multilingual workforce, easy access to decision-makers, stable and business-orientated regulatory framework, and high quality of life.
"Innovation, excellence and technology are the three keys for a country like Luxembourg to compete at an international scale", declared the Minister for Communications and Media in his speech. Luc Frieden also expressed his desire to develop Luxembourg as a hub for Big Data and a centre for services around electronic payment. After recalling the evolution of Internet connectivity in Luxembourg and the importance of continued investment in the country's infrastructure, he raised cybersecurity, "element of trust and indispensable both for citizens and for all the economy" to the priority level in the country's strategy.
ICT Spring Europe is definitively the best framework for companies and organizations wishing to improve their international network or brand awareness, for those who want to be at the very heart of business trends to generate new leads. ICT Spring Europe mobilizes as well a number of members of the economic and technology media, giving a regional and international reach to the ideas explored during the event.
Innovations showcased by 150 established companies and 120 startups
Business sectors in the innovation area were represented through 150 established companies working as partners, researchers or investors. Moreover, 120 startups had been selected to take part in the exhibition at no charge and promote their innovations: a unique opportunity for young companies through the visibility offered by the event and the presence of incubators and investors from all around the world. "Here, it is common to talk business in a relaxed atmosphere, with prospects, customers, potential partners and above all investors. We decided to come back next year." said Erik Chapier, the founder of FullComMedia, a startup established in September 2012.
Conferences by internationally renowned speakers
The first of the 26 conferences held throughout the two days of the event was the lecture given by Peter Sondergaard, (Senior Vice President Research, Gartner), on the "Digitization of the Enterprise". According to him, "the nexus of forces" (extreme collaboration, pervasive access, industrialization of IT, and data as revenue) "reflects how people want to interact with each other and their information". And those forces are driven by mobile, social, Cloud, and information. He has also recalled the shift from the function of Chief Information Officer to the role of Chief Digital/Data Officer. "There is no more IT budget. Every budget is an IT budget."
Koichiro Tsujino, founder of Alex Corporation, developer of Sony VAIO, and former president of Google Japan, was wondering "How Japan should contribute to the world in the era of Cloud computing". "After the 2011 tsunami in Japan," he said, "the recovery process is very slow, leaving the impression that the country has lost his competitiveness". Japan is also coping with other issues: the end of TV manufacturers (Sony, Panasonic, Sharp, etc.), the falling prices of digital products, and huge trade deficits. With ALEX, Koichiro Tsujino has launched a "platform to bring Japan to the world thanks to technologies" that should help the country shifting to a new business style.
Former director of analytics for the Obama presidential campaign, Dan Siroker, co-founder & CEO of Optimizely, has revealed to the audience his "Best Practices & Lessons Learned from 200,000 A/B Tests". A/B testing is a simple way to test changes to a webpage against the current design and determine which ones produce positive results.
"Website optimization makes sense," he said, "and A/B testing allows data-backed decisions that shift business conversations from We think to We know".
Barry Maher is a motivational speaker and a consultant. He explained how to increase productivity and job satisfaction through "Real World Tactics and Motivation". What has stood out from his talk is that "truth is the ultimate sales tool" and his last tip was "don't hesitate to make new and better mistakes".
The founder of Electronic Arts, Trip Hawkins, today CEO of Digital Chocolate, has shared his thoughts on the future trends in gaming, "the new New World". "EA built its own distribution pipe-line", he said, "but the Internet made it irrelevant. What form will it take in the future?" Trip Hawkins has also underlined the importance of games in education, a subject in which he is heavily involved.
"Jimmy Wales is rewriting Plato's Republic, said a tweet projected on a screen behind the founder of Wikipedia, during his discourse on "Democracy and the Internet". After a speech in which he outlined Wikipedia's premise, its basic principles and the structure of the community ("a mix of democracy, aristocracy, and monarchy"), Jimmy Wales has addressed subjects such as China's approach of the internet ("it's not working, and they know it"), mobile and internet in Africa beyond conventional wisdom, WikiLeaks ("I'm not sure it's the right approach"), and Arab Spring ("those communication tools are important, but the hard part is building institutions"). Questioned on businesses that would be unwelcome on Wikipedia, Jimmy Wales answered: "not really, but they have to respect the rules. Many of them come with bad motives and particular agendas, not for sharing knowledge."
VC panels and Experts' area
Additionally, the visitors had the opportunity to attend workshops organized in parallel with the conferences: panels run by VCs and investors, Startup presentations, Master classes in the Experts' area assumed by private and public organizations like Numen Europe, Walloon Region, TrustedCloudFactory, etc.
The 2013 European ICT Awards Dinner
On the first evening of the convention, June 19th, after a networking cocktail held in the main lobby, the 2013 European ICT Awards Dinner, a seated dinner ceremony organised for 700 ICT influential personalities, was opened by Xavier Bettel, Mayor of Luxembourg City. "It is important, in those difficult times, and when it comes to saving money, to keep investing in innovative technological sectors" stated the mayor in his address to the audience.
The winners of the European ICT Awards were announced during the Dinner. These awards aim at rewarding the best practices in the ICT field. 3 awards were opened to candidacies which were evaluated by a selected jury.
Lance Fisher, the CIO of SThree plc, a specialist staffing company headquartered in London, has received the European CIO of the Year prize, awarded to Europe's best Chief Information Officer, as a result of his global strategies and implemented projects, his technical choices and management skills.
The European ICT Innovation of the Year trophy, awarded to a European company for its innovation culture, innovative products or services and outstanding contribution to its market's technology leadership, was attributed to Applidget, a Paris based Web and mobile development company, for its software solution for event organizers.
And last but not least, Uplike has earned the European Startup of the Year award, given to a less than five-year old company for its sense of innovation, dynamism, influence and growth potential in the near future. Uplike's product is a Cloud based bookmark organizer.
***
About ICT Spring Europe – As part of the worldwide ICT community, the ultimate goal of ICT Spring Europe is to encourage emulation and networking between CIOs, innovation managers, startups, researchers and venture capitalists on a European scale.
About Farvest Group – Farvest Group is the Luxemburgish community marketing leader and organises major b2b events, including national awards (Luxembourg HR Awards, Luxembourg ICT Awards, Luxembourg Finance Management Awards, Luxembourg Marketing & Communication Awards, Luxembourg Green Business Awards, Luxembourg Best Workplaces, etc.). The agency has 6 community information portals and 40,000 local and professional contacts, half of whom are subscribers to the different weekly e-newsletters. In 10 years, Farvest has acquired a unique know-how in modelling and promoting media and financial events but also in initiatives in numerous other sectors. Today, Farvest is a reference within the Luxemburgish framework and a recognised agency, particularly with regard to event innovation. For further information, please visit www.farvest.com; www.ictspring.com
Source: Press release by Farvest Group
Press contact: Céline Tarraube, T: +352 26 27 69 42, E: celine.tarraube@farvest.com
The German Outsourcing Association and the Outsourcing Journal are official media partners of the ICT spring 32013 event.