However, the small number of "onshore" German market service providers has limited SME back-office process outsourcing to date. The buw and PriceWaterhouseCoopers study of the German SME landscape outlines the current state of play and optimization potential in F&A processes. Only 19 percent of companies already outsource processes to third parties. Of the remaining 81 percent, 13 percent indicate that they are actively considering outsourcing as a solution.
An onshore service delivery presence helps eliminate these obstacles.A number of leading companies have already recognized this fact, and are currently serving the German market: either with their own subsidiary activities within Germany or in close strategic partnerships with local partners. An example: Leading European IT-enabled businessservices operator Steria announced a strategic outsourced procurement services partnership with leading German service provider HPI GmbH at the beginning of 2010.
The cooperation reinforces Steria's strong position in the BPO market, placing the company firmly among Europe's leading procurement service providers. As an outcome of the agreement, Steria benefits from wide-ranging procurement services and is simultaneously able to provide enhanced BPO service to its international client base. Moreover,the company is able to significantly expand its profile in the Europeanand German BPO markets. Conversely, HPI enjoys access to Steria's new service delivery organization in Germany, as well as to the company's integrated delivery model.
BPO Market Potential in Germany – Leading BPO analyst NelsonHall forecasts an annual growth rate of 7.2 percent in the German BPO market through 2013 (6.5 percent in the front office market; 7.3 percentin the middle office market, and 9.2 percent in the back office market respectively). At present, front and middle office market services enjoy the lion's share of the market. NelsonHall also expects continued growth in the front office sector, a finding backed up by researchconducted by the Call Center Forum industry association.
Industry analysts report significant BPO market potential for a wide range of processes in a number of industries. According to Nelson-Hall, the industries and processes outlined in the table above have the greatest BPO potential within the German market.Hewlett-Packard (HP) expanded into the German BPO market by acquiringGerman company SCHOTT's financial SSC in 2008. This provides onshore BPO services for the German market.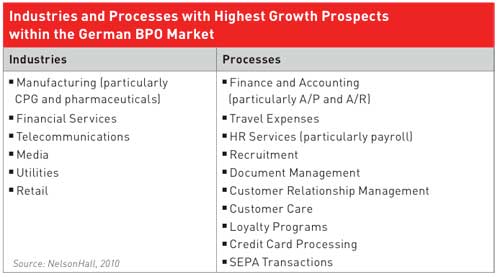 HP established its German F&A BPO services delivery center in northern Bavaria, close to the Czech border. While offering BPO services from a local center, HP also enjoys a competitive advantage over international BPO providers delivering from offshore location using non-native speakers.
Read in part 4: The German Work Force
Quelle: Industry Overview BPO & Shared Services April 2010 by GTAI
Germany Trade and Invest Gesellschaft für Außenwirtschaft und Standortmarketing mbH,
Friedrichstraße 60 – 10117 Berlin Germany,
T. +49 (0)30 200 099-555 – F. +49 (0)30 200 099-999