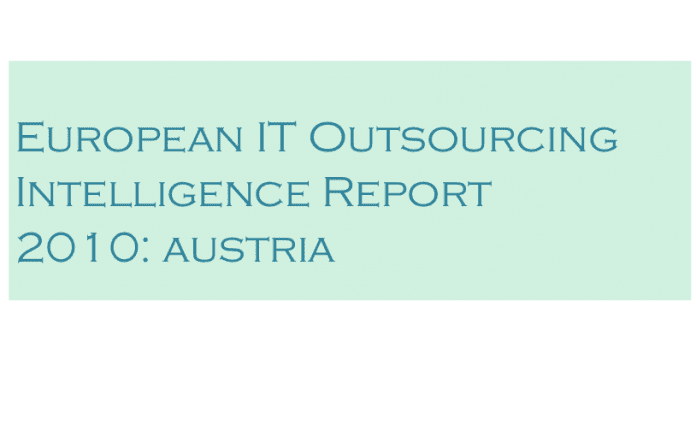 Regarding the revenue growth, 11% of companies expect 0% or less annual revenue growth; 35% – 1% – 9% growth, 27% – 10%-19% growth; 22% – 20%-49% growth and 5% – 50%+ revenue growth. Twelve percent of the surveyed companies have more than 3 years of the outsourced software development experience, 37% have 1 to 3 years of experience and 51% have less than 12 months of software development outsourcing experience
Thirty-two percent of the surveyed Austrian companies currently outsource their software/web development nearshore (maximum 2 time zones away from home country), 17% outsource nearshore and within Austria, 16% outsource offshore (more than 2 time zones away from home country); 13% outsource both offshore and nearshore, 11% outsource offshore and within Austria, 5% outsource within Austria only and 6% of companies polled outsource offshore, nearshore and within own country. Eighty-seven percent of the surveyed companies outsource their software/web development to a single IT services provider, while 13% distribute their development among 2 and more providers. Fifty-seven percent of Austrian companies partner with mid-sized ITO providers (50 to 499 in headcount), 31% outsource their software development to small providers (less than 50 in headcount), and 12% partner with large providers (500+ in headcount). The following percentage of Austrian companies that do staff augmentation (i.e. the process of hiring a dedicated team of additional staff to bring better efficiency in the work process) have the following number of team members on their outsourced software/web development teams: 4% – 1-3; 39% – 4-8; 26% – 9-10; 18% – 11-20; 5% – 21-30, and 8% – more than 30 team members. Regarding the value of the outsourced projects, 7% of Austrian outsourcers value their project(s) at EUR 0-49K; 48% – EUR 50-199K; 33% – EUR 200-499K and 12% – EUR 500K and more.
Key Survey Findings
In Austria, the number of nearshore software development outsourcers is double the number of offshore outsourcers.
The Top Three reasons why Austrian companies choose to outsource their software/web development are: to reduce operating costs, to get access to qualified/specific IT talent and resources and to respond to the pressure from investors/executive management to cut down IT budgets.
Most of the outsourced projects in Austria belong to Web 2.0 (Web 2.0, Microsoft ASP.NET, Java, EpiServer, open source etc) and mobile development domains.
The Top Three factors driving the choice of the outsourcing destination in Austria are: geographical/cultural proximity, available resource pool and low costs.
The Top Three factors driving the choice of the outsourcing partner are: references and reputation, specific skills and innovative business models.
The Top Three challenges of the outsourced software/web development among the Austrian outsourcers are: poor communication with vendor's project management, delays in delivery schedules and/or missed project milestones, and cultural difference.
The majority of the Austrian companies report saving 10%-24% of operating costs from the outsourced development.
Many thanks to:
IT Sourcing Europe Ltd is a UK-based research and consultancy company specializing in nearshore IT/software development Outsourcing. Our services include: • Independent IT Outsourcing market research and analysis • Independent surveys of Western European outsourcers and their ITO demand • Independent surveys of Central and Eastern Europe's ITO services providers and their factual capability to deliver top quality products and services on time and on budget • Consultancy and recommendations to companies planning to change their current outsourcing strategies • Consultancy and recommendations to companies planning to outsource their IT function nearshore • Custom market and competition research and surveys
Our Contact Details: IT Sourcing Europe Ltd The Meridian, 4 Copthall House, Station Square, Coventry, West Midlands, CV1 2FL United Kingdom Email: info@itsourcing-europe.com Tel.: +44(0)2476992505 Web: www.itsourcing-europe.com