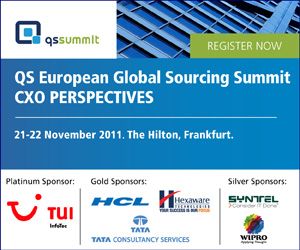 When & Where
21-22 November 2011
Hilton Hotel Frankfurt, Hochstrasse 4, Frankfurt am Main, Germany 60313
Who Will Attend
Sponsored by leading Global Sourcing players such as TUI Infotech, TCS, HCL, Hexaware and Wipro, the summit speakers and panellists include numerous senior executives from organizations such as Arcelor Mittal, Deutsche Leasing, Euroclear, BASF, Deka Bank among others. The attendees are CXOs and business leaders from IT, business processes, and procurement as well as C-level management of provider organisations.
Agenda
The comprehensive agenda will highlight the latest trends in Global Sourcing and is a perfect networking opportunity for both providers and buyers. The topics of presentations and discussion panels will include, however not limited to:
• Integrating distributed organisation through consolidate infrastructure
• The changing role of the CIO
• Harnessing global talent through global sourcing
• Linking sourcing strategy to business demands
• Can technology surpass labour arbitrage
• Successful global sourcing requires effective implementation
• Establishing a foundation for vendor collaboration
For delegate registration and further information, please visit www.qssummit.com or email info@qssummit.com.
About QS Advisory – QS Advisory is a Europe-based advisory firm with a sole focus on Global Sourcing. The primary focus of QS Advisory is Global Sourcing. It helps clients develop and implement global sourcing initiatives that are aligned with their business demands. QS Advisory's services span the entire value chain of the sourcing process – strategy formulation, partner selection, solution evaluation, negotiation and contracting, transition support, governance implementation and value realisation during steady state operations.