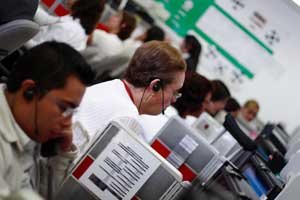 Reduction of Staff
A call center industry is often experiencing a great engagement in the recruitment process of calling agents every day. As the process is very complex, a great amount of capital and effort is involved. Right from hiring till training, a call center engages a lot of departments to make them skilled for the company business. As the attrition rate is very high in these units, it should be made a point that the management should take appropriate measures to make the job profile interesting and long lasting. Implementing innovative strategies to reduce retention rate should be introduced frequently.
Workload Adjustments
Instead of hiring extra employers, it is considered better to allocate the projects as per the capability of the staffs. Assign the important and complex projects to a team that has the ability to complete it faster without making any errors. Experienced staffs are the resources of a call center. A project manager should develop a relation with the individual team and allocate the projects to a team that masters it. This will enhance superlative results and hence repetition of work will curtail. After all, saving time is saving money.
Use of Technology
The contact center services has undergone a great change since the industry's demand in the global sector has risen. The use of the latest IP based protocol in the calling center operations have resulted to deliver international voice quality at lesser cost. In addition, the call centers can validate their investments in aggregate IVR utilization, technology, website functionality and many more. The use of Computer Telephony Integration (CTI) technologies has proved effective to reduce operational cost and improve the revenue graph quickly.
Method Re-engineering
One other method to strategize cost efficiency is by reshaping the conventional methods of call center strategies. Experts are continuously developing innovative ways to perform better customer support and that too within the use of limited resources. Just need to focus on the latest updates and start implementing them as per your choices and feasibility.
Contact Center Services can surely cost effective if the above mentioned practices are regular updated.
Author: Jack Wilson is one of illustrious Business Performance Consultant, focused on helping the call center clients in escalation of efficiency and effectiveness in the outsourced contact center services. He is deeply engaged in the call center industry and bringing smile to the entrepreneurs, investing in the BPO industry. (via)