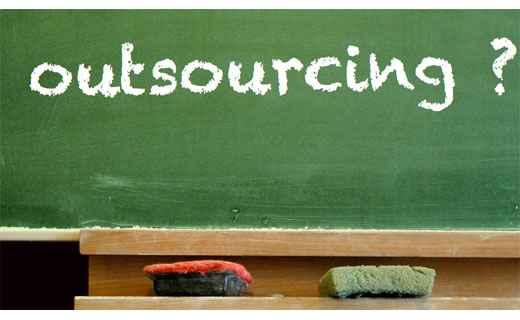 (See graphic in the full article at the special edition of The Outsourcing Journal "Outsourcing India" (Nov 2012) pages 68 – 72)
Outsourcing is becoming a "Dirty Word," which is unfortunately an aftereffect of the giant waves of economic crises over the last few years. Many politicians in the Western World (i.e. see President Obama and the current US Elec¬tion debates) may find it easy to identify Outsourcing with Off¬shoring, which is not necessarily always the case; and therefore, blame Outsourcing for the loss of domestic jobs. It goes with¬out saying that this is far from the truth. What politicians may be failing to recognize is:
• In a competitive and global market economy, which we all operate in nowadays (including former communist blocks), busi¬nesses will continually strive to become more competitive. The Outsourcing Business Services In¬dustry represents just one of the leverages available today to Busi¬ness Leaders to achieve higher levels of Competitiveness.
• In the Western World (i.e. UK/Eu¬rope and the USA), there is an in¬creasing scarcity of the required mix of cost and talent of certain resource types (i.e. White Collar), of which Emerging Economies have an abundance of.
• Outsourcing/Offshoring often becomes a mandatory step un¬der the pressure of reducing the business cost base, once all oth¬er avenues available internally have been exploited (i.e. Cap¬tive Shared Services, Information Technologies and Process Im¬provement methodologies such as Lean Six Sigma). It is our strong belief that businesses often fail to achieve the desired Competi¬tiveness improvement results internally, either due to lack of appropriate Leadership skills or adequate utilization of the avail¬able tools (or often both), and re¬sort to Outsourcing/Offshoring as an easy escape route to achieve their targeted (and short-sighted) cost reduction objectives. It goes without saying that if these busi¬nesses were to succeed with their domestic/onshore improvement initiatives in the first instance, certain activities and their related jobs would simply vanish.
Drawing upon a personal note, my father became a Senior Fi¬nance Executive in the 1960's- '70's before the advent of the Personal Computer and he has shared several stories with me about bloated Accounting De-partments where the employees would first process accounting entries manually, then transfer the information onto magnetic cards to be processed in huge mainframes that took up the space of entire rooms. All these manual processes and jobs have since long gone, with the advent of the personal computer and related process automation soft¬ware; however, I do not hear Mr. Obama blaming Larry Ellison or Bill Gates in the same way he does with the "Outsourcing" Industry.
The bottom line is merely: Busi¬nesses will always strive to be¬come more competitive and re¬duce their costs. This is part of the game and we simply cannot stop it.
Nevertheless, if we can't (and shouldn't) stop to look for ways to continuously improve the busi¬nesses we work for; perhaps, we should put our intellects and tal¬ents at the service of finding bet¬ter, or possibly the best, ways of doing it.
Returning to the Outsourcing In¬dustry studies which we started from, just a quick clarification note before we proceed: These studies in particular refer to the Back-office Functions Optimi¬sation debate (i.e. Finance, HR and IT) of which I have person¬ally been a part of throughout my 18+ years professional career. What is being debated in relation to Back-office process improve¬ments, I personally believe is gen¬erally applicable to any business process domain.
An abstract summary list of a few significant findings from the studies (2) :
• Captive Shared Services and Outsourcing (SS&O) Hybrid Mod¬els are emerging as the dominant and most effective ones, com¬pared to pure in-house Shared Services or Business Process Out¬sourcing alone.
• SS&O Customer Relationship Management (CRM)/Account Management Processes need to significantly improve, and Service Providers have to considerably raise the profile bar of their BRMs (Business Relationship Manag¬ers).
• More and better Partnership in¬tegration is needed between Ser¬vice Providers and their Custom¬ers.
• Transformative, Process Im¬provement and Business Process Innovation Business Service de-mands/requirements are notably on the rise amongst Business Leader and Decision Maker cir¬cles.
• As these Transformational Ca¬pabilities are often difficult to be found both in-house and within external service providers, hence the growing need on both the SS&O buyer and provider sides to collaborate more with Com¬petitors and Consultants, which are capable of providing these vital "Sustainable" Continuous Change Capabilities (believe it or not, these providers might not be house-hold names, but they do exist).
In consideration of the above findings, what exactly is this Best Practice Holy Grail to provide the 21st Century Knowledge Economy Businesses with these much-needed Transformational Capabilities? All the main themes extracted from my recent read¬ings and summarized above seem to point in one direction and are inevitably linked to one word: Knowledge.
A simple and personal question for consideration: If Change is needed in any aspect of our per¬sonal life (i.e. quit smoking, lose weight, and etc.), what would be the single and most powerful en¬abler of Sustainable Change?
That enabler and critical factor of sustainable change is called Awareness.
Acquiring that vital mirror and learning to appreciate and accept the truth of what we see, and developing the ability to obtain those fundamental facts that will provide us with a reality check about the consequences of our behaviors, are our best chances to sustainably change path in our lives.
If we move away from this meta¬phor to the reality of sustained Business Process Change, how can we acquire and most effec¬tively use this Knowledge to the benefit of the Business and its key Stakeholders? And, what exactly is this Knowledge?
Within our industry, SS&O Hybrid Models generally have a better chance of succeeding, compared for example to pure BPO setups, because the Retained Functions (i.e. Captive Shared Services Lead¬ership Teams) generally do a bet¬ter job at:
a) Gathering vital Change related Facts and sharing this Knowledge with the relevant Stakeholders across End-to-End Processes
b) Using this wisdom to build Consensus
c) Providing the required Lead¬ership to effectively implement agreed Change Actions.
With SS&O CRM Processes, there exists a strong requirement for fundamental re-thinking and up-skilling because their essential Change Capabilities are often missing and BRMs in most (or the best) cases will just keep them¬selves busy with mundane "keep the SLA's green" exercises.
More and better Partnership in¬tegration will be required across end-to-end processes (with or without Shared Services and/ or Outsourcing), because the various internal and/or external functions across an end-to-end process typically operate in silos and do not create, properly docu¬ment, share, and act upon that vitally required Change Knowledge.
With consideration to business requirements, what precisely is then this Change Knowledge? And assuming that we under¬stand what it is and find the best way of acquiring it, how can we best utilize it to the benefit of the Business?
One of the many Industry "Buzz- Words" that seems to be used vigorously at the moment is "End-to-End". But, how many people genuinely understand why an End-to-End Process View is re¬quired, and truly appreciate its vi¬tal links with Change Knowledge creation?
Since becoming a Six Sigma Black Belt in 2000, I have learned a few crucial lessons through my relent¬less experimentations with the methodology to tailor it to the needs of the Business Process Im¬provement reality:
>> Read the 2nd part of the article in the special edition of The Outsourcing Journal "Outsourcing India" (Nov 2012) page 68 last paragraph (free download)
(1) "A Blueprint for the Industry Known as Outsourcing." HfS Research. June 2012. Retrieved 15 August 2012. (2) "A Blueprint for the Industry Known as Outsourcing." HfS Research. June 2012. Retrieved 15 August 2012. (3) "Sourcing cheaper staff the new growth industry." The Sydney Morning Herald. 28 January 2012. Retrieved 15 August 2012.
The Author: Davide is a Director and Advisory Board Member at StruFin, where he works on innovation and defining best-in-class solutions for global organisations. Bringing 18+ years of practical Global Shared Services, Finance Transformation and Business Process Improvement experience, Davide is an innovative thought leader who has extensive hands-on experience in the design, set-up and execution of Global Business and Finance strategies with a proven track record of successes covering Processes, Systems, Teams, Customers and Competitiveness challenges. His core areas of knowledge and expertise encompass international Financial Accounting, Shared Services, Outsourcing/Off-Shoring, Business Architecture, Lean Six Sigma, Change Leadership, Information Technology, Governance & Control Frameworks, and sustainable Continuous Improvement. Davide holds a Masters Degree in Economics and Financial Accounting from the Università Cattolica del Sacro Cuore – Milan, Italy. He is also a Six Sigma Black Belt and Lean Practitioner. Contact: service@strufin.com – Web: www.StruFin.com