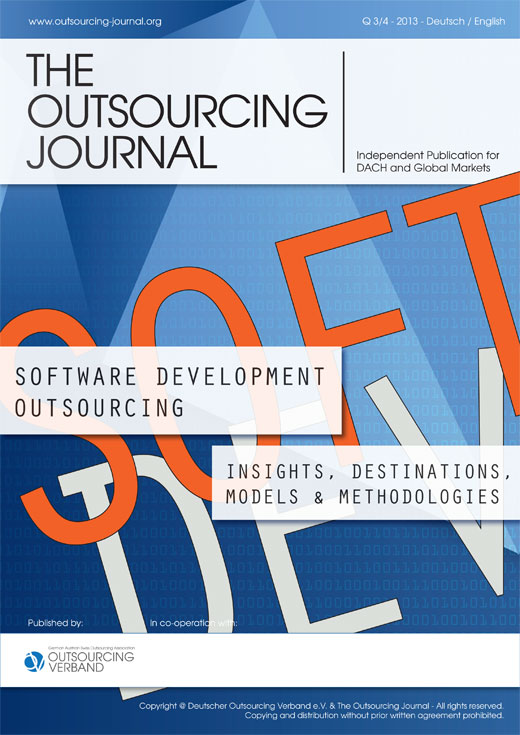 We are seeking articles and papers covering the following topics:
Market information
Software development methodologies
Best Practices
Industry specific solutions (health care, mobile, gaming etc.)
Legal and contracting aspects
Management & inter-cultural aspects
Business & co-operation models
Partnership
Universities and research organizations can contribute by advising in editorial questions, publishing research results, etc.
Partners are named on front-/back page with logo and label "in co-operation with". Further partners are granted half page space for profile (400 words) and half page advertisement. Contact us for more information: info@outsourcing-journal.org
Commercial organizations can demonstrate their market engagement by sponsoring this issue and receive featured placements and dedicated space for branding and presentation in this issue. More information are available in the Call for Articles (PDF, download below)
Type of content and lengths
Publishing neutral/technical articles is free of charge. Marketing related articles as advertorials are limited and connected to a publishing fee. Please download the Call for Articles for placement and prices.
Articles and papers should be at least 3 pages and maximum 5 pages long (standard word formatting).
Publishing
Articles and papers will be selected for publishing after editorial criteria. They will be included in either this issue or in one of the upcoming issues (depending on editorial criteria). All published articles include an author's profile and full credits.
In addition authors can include (free of charge) a full profile of their company or organization (up to 220 words, logo, contact) in the section "Organizations".
Example
An example issue is available for free download at: http://www.outsourcing-journal.org/Outsourcing_CEE_2013/index.html
Submission
Please submit as word document only, incl. 1 paragraph authors profile and 1 picture of the author. If you want to include own picture material please include proper proof of copyright. Content languages: German OR English
Coverage & Distribution
This special edition is distributed to at least 34.000 people within the DACH countries directly and benefits from a marketing campaign targeting an other 60.000+ people in the DACH region within the IT- & business service industry. Furthermore the journal will be available for free download via our Online-edition www.outsourcing-journal.org
Call for Articles (PDF) & Submission Contact
> Download the CfA here
> Submit your article directly via email
Publisher & contact
Publisher is the independent, non-profit German Outsourcing Association (Deutscher Outsourcing Verband e.V.). More information at: www.outsourcing-verband.org
For further questions please write to the editor's office: info@outsourcing-journal.org