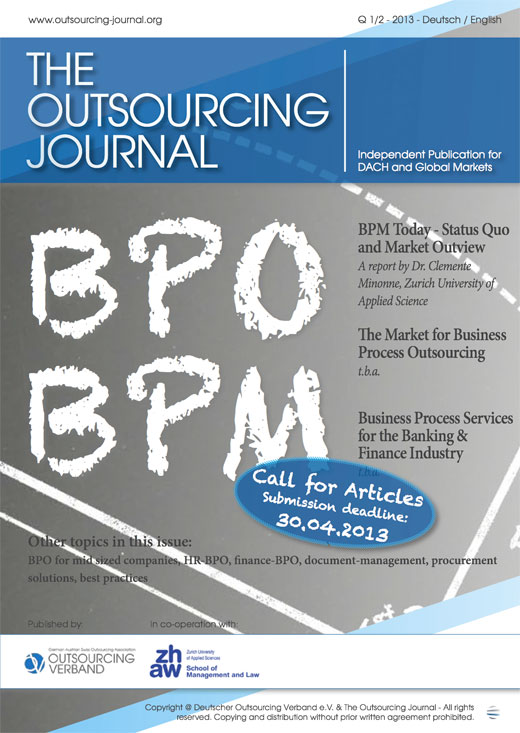 Topics
We are seeking articles and papers covering the following topics:
Industry specific solutions & case studies
Market information DACH & Europe
Business process outsourcing
Business process management
Legal and contracting aspects
Management aspects & business models
Type of content and lengths
Publishing neutral/technical articles is free of charge. Marketing related articles … > Download Call for Articles with full submission information
Unique opportunity to present your expertise
If you would like to advertise, place an advertorial or sponsor this issue please see the presentation information in the Call for Articles (page3)
Publisher & Partner
This issue is published by the independent German Outsourcing Association (Deutscher Outsourcing Verband e.V.) in co-operation with Zürich University of Applied Science, School of Management an Law.
Circulation and Distribution
This issue will be distributed widely among more than 34.000 professionals and will benefit from a social media campaign with more than 60.000 targeted recipients. Further our publications are continuously available for free download on the websites of The Outsourcing Journal and the German Outsourcing Association.
Submission deadline for articles and advertisements: 30.04.2013
> Download Call for Articles (PDF)
Contact to the Publisher