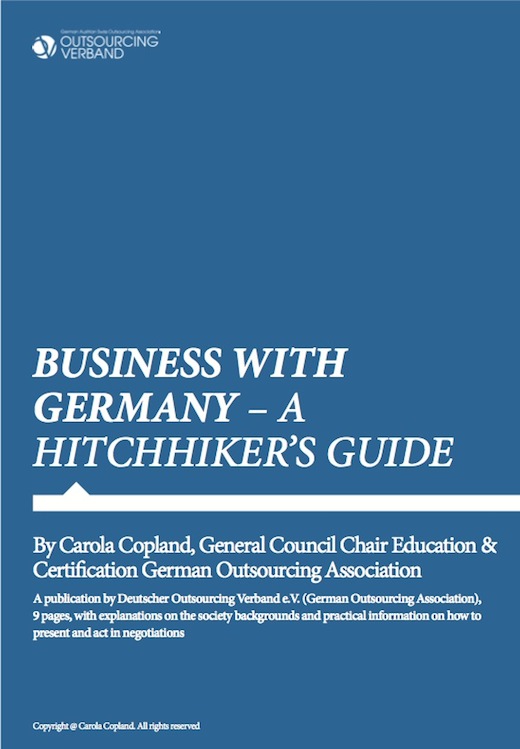 The fact is that it is very hard to ignore this country and its economy if you want to do international business. On the other hand I have to admit that Germans are somewhat special to deal with.
The question actually brings up some strange and funny stereotypes, but does not help to deal with Germans. So I thought it is time to demystify some wonders and help bring understanding of some of the unique behaviour you will experience when dealing with "the Germans". Firstly, let me introduce myself: I am German but I left Germany almost 9 years ago. In the meantime, I have lived and worked in Switzerland, Hungary and the UK. I still like to work with Germans but in doses of a homeopathic level as those behaviour (which must have been mine as well) now strike me as strange. My own culture and behaviour has become hybrid, I may still have many "typical German" ethics, values and behaviour but from my experience I am able to switch between several cultural standpoints – I have become an Expatriate.
I should of course make it clear that although I prefer Germans in homeopathic doses and I have a more distant view, I still like you!
Read more in the white paper, incl.:
Culture and Differences – Introduction
The art of turning a "no" into a "yes" – or: they are "mostly harmless"
Why roses and dinner are not enough – no platitude will make it.
Getting there
We need a plan! Expectations and goals.
> Download the white paper (PDF, free)
Author: Carola Copland is a bi-lingual, qualified German Lawyer with more than 12 years experience within a Fortune 50 Global IT company. She has held senior and international management po- sitions in nearly all areas of Strategic Outsourcing business: inter- national Outsourcing sales projects, contract management, Shared Services and Delivery Centre start up and operations – covering the range between New Logo full scope Global IT Outsourcing down to local Base Growth requests (RFS). She left Germany in 2005, since then she has lived and worked in Switzerland, Hungary and since mid 2012 lives in the UK. Carola started her own consulting business end of 2013. She is add- ing some international business experience and 'continental skills' to SMEs and Charities, specifically caring about adult education and lit- eracy. From time to time she is as well working as a consultant in the Outsourcing arena. Her motto: "Order does not come by itself!". She can be reached via LinkedIn or email: Carola.Copland@ra-partners.co.uk