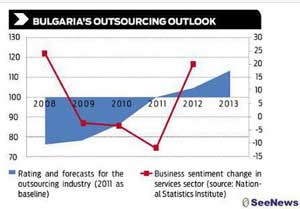 Asked to rate other factors that contributed to draw outsourcing firms to Bulgaria, the respondents gave good grades to access to IT resources and infrastructure, as well as low production costs. Lower grades were given to factors such as innovation, Bulgaria's profile as an outsourcing destination and access to financing, but the lowest grade was reserved for Government policy in the outsourcing sector.
But while the labour pool was Bulgaria's strongest argument, 44 per cent of respondents identified finding qualified workers as the main challenge that the industry will face in the future in the country.
To a lesser degree, the outsourcing companies would be challenged to maintain growth (19 per cent) and diversifying services and their customer base (19 per cent). Most companies polled for the survey said that they had few customers – 28 per cent had one or two and 50 per cent worked with three to five companies. Only 11 per cent had more than 11 customers they worked with.
Only six per cent of respondents listed the economic recession as a challenge for Bulgaria's outsourcing industry.
Bulgaria's outsourcing sector served mainly international companies, with the bulk of outsourced services coming from the UK, US and Germany, according to the survey.
The most commonly outsourced services were in the financial and telecommunication sectors, software development, wholesale and retail trade.
The survey covered all industry segments represented in the country – business process outsourcing, knowledge process outsourcing and IT outsourcing. Half of the companies polled had more than 250 employees.
Looking forwardImproving and expanding the qualified workforce and stronger international marketing will be key to boosting Bulgaria's outsourcing sector, industry officials told a conference on outsourcing in Sofia in late April.
Bulgaria was improving its business environment faster than its immediate competitors, but was maintaining a status quo in people skills, while all comparable countries were improving, Peter Brishimov, senior consultant at management consulting firm A.T. Kearney said at the Outsourcing 2011 – Directions for Development conference, organised by SeeNews and business daily Pari.
Bulgaria's main rivals in the outsourcing area were Romania, Turkey, the Baltic countries, central Europe and Asia, Brishimov said. "To gain advantage, Bulgaria should focus on improving education and language capabilities, which are independent of the absolute size of the country," he said.
What made Bulgaria stand out, compared to the other countries in the region, was its stable business climate, qualified workforce and abundant supply of offices (85 per cent of respondents in the SeeNews survey said that they rented offices), Stefan Boumov, executive director at Bulgarian business process outsourcing company Sofica Group, said. However, the country needed to inrease its competitiveness and develop a niche focus, targeting investors in specific industries, Boumov said.
Preslav Pavlov, director of infrastructure technology outsourcing at the Hewlett-Packard Global Delivery Center in Bulgaria, said: "Bulgaria's workers are very qualified and motivated and that will definitely push the sector forward."
However, the country needed to market itself more aggressively as an outsourcing destination, the executive director of Invest Bulgaria Agency, Borislav Stefanov, said.
Bulgaria needed to build up its image on the international scene, Stefanov said. "It should advertise itself more as a good destination for outsourcing investments, as that would help its market develop and its export of services grow."
Stronger marketing of the whole region would give an impetus to Bulgaria's outsourcing sector too, according to deputy economy minister Evgeni Angelov.
"Bulgaria should also seek ways to market the whole southeastern European region as an outsourcing destination to Western Europe, thus addressing the large-scale needs of companies there," he said.
According to a survey by global management consulting firm McKinsey&Company, the workforce of the outsourcing sector in the southeastern European region has grown by 10 per cent to about 250 000 people in 2009 and 2010. Bulgaria posted the highest growth, going from an estimated 8000-9000 people to between 12 000 and 13 000 people during that period.
Bulgaria's outsourcing sector served mainly international companies, but while the bulk of outsourcing contracts came from Britain, US and Germany, Bulgaria itself was ranked among the top five countries commissioning outsourcing services to local companies, according to the SeeNews survey.
To a lesser extent, the customers of Bulgaria's outsourcing industry came from France, Macedonia, Russia, Israel, Poland, Spain and Sweden.
Angelov said that he hoped that Bulgaria's Government would spur the sector's development by increasingly outsourcing public sector services.
Source: SeeNews, The Sofia Echo – Supported by: bulpros