2. Geographical and cultural proximity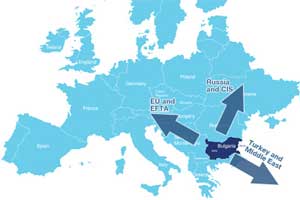 Bulgaria is situated in the South-Eastern part of the Balkan Peninsula. The country's population is about 7.7 million people and its territory spans 110,912 sq.km. Bulgaria borders Greece and Turkey to the South, Macedonia and Serbia – to the West. The Danube River to the North is our natural border with Romania; the Black Sea is situated to the East.Bulgaria is in the center of a region, which is undergoing dynamic transition. Within 500 km of our capital city, Sofia (1.4 million people), a population of over 90 million lives in 9 countries that have recently embarked on their way to a market economy. This is a large market with a rapidly increasing purchasing power.
A network of international motorways crosses the country, making vital connections to the countries of Western Europe, Russia, Minor Asia, the Adriatic, the Aegean and the Black Sea. Both sea and river transport (the Black Sea and the Danube River) facilitate the trade with the region.
3. Main cities
Sofia is the capital and largest city of Bulgaria and the 12th largest city by population in the European Union with population of 1.2 million people and 1.4 million metropolitan population. Sofia has attracted many IT companies who took the decision to set up their operations in Bulgaria, open global centers to support their activities or clients, outsource projects, develop products etc.
Sofia and Varna remain as the two distinctive leading locations in Bulgaria for ITO/BPO business, able to accommodate relatively large operations in terms of talent pool, language capabilities, infrastructure and other factors. All other cities can accommodate specific niches of BPO/ITO.
4. University capabilities
Bulgaria is a recognized partner for companies in Automation, Chemical industry, Electrical Engineering, Electronics, ICT & BPO, Mechanical Engineering. We differentiate with highly qualified workforce with strong technical and engineering background.
Bulgaria has a very well-developed educational system specializing in electronics, engineering, and computer sciences. The universities and colleges in the country are more than 53, located in 26 different towns. According to the National Statistics Institute the total number of university and college students in Bulgaria for the study period of 2010/2011 – including the students in the four educational degrees (professional bachelor, bachelor, master and doctor) – is 281 170.
5. Language capabilities
Bulgaria is a very attractive outsourcing destination, when it comes to delivering services in any of the languages below: English, German, French, Italian, Russian, Spanish, Serbian, Greek, Turkish, Romanian, Bulgarian, Dutch, Portuguese, Polish, Slovak, Czech, Ukrainian etc.
6. Bulgaria on the global outsourcing map
"Bulgaria maintains its competitiveness vs. Central Europe and Asia" according to A.T. Kearney`s Global Services Location Index for 2011. Analysis show the country is quite close to the category leader Asia in terms of financial attractiveness and first among the countries in Central and Eastern Europe. The infrastructure costs are competitive to the countries of Central and Eastern Europe, the Baltics and Asia. "The financial attractiveness of the country is also based on tax and regulatory costs which are improving solidly even without the possibility for currency depreciation" commented Mr Peter Brishimov, CFA at A.T. Kearney in his presentation on the top outsourcing conference in Bulgaria which took place on 20th April 2011. In his point of view Bulgaria`s business environment is also in line with the trends for improvement even faster than its immediate competitors.
This statement is based upon A.T. Kearney's professional experience and judgment but there may be other, equally valid, views. It does not in any way represent advice or a recommendation. Any reliance a third party chooses to make on the information is a matter of this parties judgement exclusively and independently.
Sources: A.T. Kearney, Global National Statistical Institute, Invest Bulgaria Agency
BulPros is a company which provides customized solutions with a focus on IT and BPO consulting, Software development, System integration, Technical and Customer support. Our company comprises of dedicated professionals, who have gone a long way together as a team, united by the idea to create, achieve and exceed customers` expectations. Our consultants work with you to customize the model which will meet your requirements on time and within budget. We are committed to add value by delivering high quality.
Contact: Denitza Mihova, Marketing Manager at BulPros
Mobile: +359 889 662204