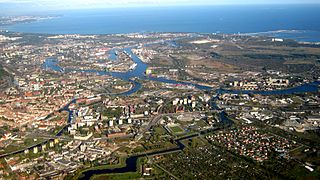 'The opening of Sony Pictures Global Business Services in Tri – City, as a shared service center for Sony Pictures Entertainment, is a very good example of how the region co – operates with the investors and supports the creation of new workplaces. We found a dynamic, skilled human capital here (on which we keep building our organization) and favorable conditions for opening a new office. Positive atmosphere among new businesses has helped us in making the final decision about the investment location' – Michał Gryglewski, Sony Pictures, Executive Director
The main business motive that favor to the services offshoring is the cost reduction while maintain the same quality of served processes. Among the key factors of an investment location are: operational costs, availability of qualified stuff and office space. When the investor analyses similar locations (regarding above mentioned factors), he takes into consideration the city's image as well as institution's support, too.
Tri – city is in the forefront when it comes to outsourcing project's implementation in Poland. The KPMG report "Exploring Global Frontiers – The new Emerging Destinations, 2009" indicates Gdansk as a one out of eight most attractive destinations in Europe considering the creation of new shared service centers. Gdansk come off well also in Cooliers International and Atria Real Estate rankings. According to them – Tri –city is one of the most interesting cities for new investments in the BPO sector.
Companies like: Acxiom, GE Capital, Compuware, First Data, IBM, Intel, Boeing, Mastrelease, Synopsys, Sony Pictures, NComputing, Thomson Reuters, Nordea, Arla Foods Transcom, Playsoft, SII, Kainos, Fineos Goyello and OK Poland, that already have their operations in Tri – city prove, that it is worth to invest here.
Office Space
'The presence of tenants from BPO/SSC sector, constantly growing number of corporations interested in locating their businesses in Tri – City results in the market development. It results also in adjusting the offer to the tenant's needs. Many companies decided to locate their business here, in Tri – City. Sony Pictures Entertainment, First Data, Geoban, Arla Foods or Acxiom are among them. The vacancy ratio in Tri – City, at the end of 2010 presents a 'healthy' level of 11,2%' – Magdalena Reńska, Head of Office Agency, Gdańsk, Jones Lang LaSalle
Labour Market
'Inspite of a highly developed infrastructure and specializes personnel resources, the Tri -city has a moderate expense rank. A dense network of flight and ferry connections which potentailly encourage employee migration had had little effect on wage levels. The Tri – city remains one of Poland's favoured location for BPO/SSC investments. The satisfaction rate amongst employees is quite high and the majority of them confirm that the wage levels are attractive' – Anna Brzezińska, Account Manager, Start People Sp. z o.o.
Incentives
By locating your operations in Gdank Metropolitan Area you can consider using different incentives as:
Polish Information and Foreign Investment Agency (PAIiIZ) grants
U grants (refunds) – measure 4.5.2 Operation Program Innovative Economy – for large projects in service sector (i.a. creation of SSC/BPO, IT center, R&D center)
Gdansk County Labor Office –depends on the number of the unemployed persons –
USD 6 332/equipment for a workstation,
USD 3 165/training costs,
USD 616/social allowances refund
Possibility to get trainee free of costs
City of Gdansk – Gdansk scholarship – covering costs of training of future employees
* In all calculation the exchange rate 1 USD = PLN 3,00
This article is published in co-operation with outsourcingportal.eu a polish online news and information service (source)