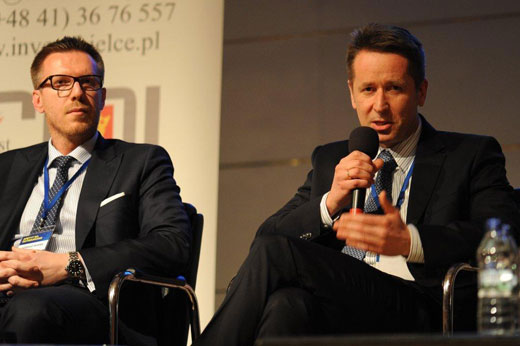 According to Colliers resent research, City of Kielce is among the rising stars for BPO locations, and the offer of the city for the industry is becoming more and more interesting. City of Kielce is located in Central part of Poland 2 hrs drive from Warsaw or Krakow. Already 10 outsourcing investors have decided to set up their offices in Kielce, among them there are such brands like for example Medicover, UCMS, CCIG – which are well recognized industry representatives in Poland. UCMS, which is the finance and accounting BPO is actually opening their office in next few weeks and during the conference has presented reasons why they chose Kielce for their second office in Poland (the other one is located in Warsaw).
The conference has taken the whole day and was divided into presentations, discussion panels and question-answer sessions with delegates. There were more than 200 participants of this event who had the opportunity to get familiar with outsourcing investment opportunities of Kielce, but also Lublin and Olsztyn – whose representatives were presenting business attitudes of Eastern Poland. All information was very useful for the audience, as participants could find out for example the size of the office market as well as level of salaries offered in BPO industry. From the presented salary reports delegates got information of average monthly gross salary in Kielce, which is on the level of PLN 3.195 (EUR 760) and is nearly 35% lower than average monthly salary in Warsaw.
The unemployment level in Kielce is 11,6% and among the unemployed well educated people there are graduates of 2 public and 9 private universities located in Kielce.
Deloitte and Savills have presented real estate values of which the participants of the conference have been informed that currently in the city there are over 45.000sqm of offices and additional 46.000 are planned to be built in coming years. The average cost of the sqm is EUR 9 per month.
As the conference was dedicated also to other Eastern Poland locations there were presented data concerning the most important outsourcing facts, such as for example:
• 47 outsourcing centers located in – The świętokrzyskie, Warmia and Mazury, Podlaskie, Lublin and Podkarpackie voivodeships created over the last 10 years.
• Lublin and Kielce are the most popular cities for the outsourcing industry in Eastern Poland.
• 15.000 graduates of universities in Kielce including English, German and French speaking
• Each city has Technology Parks allowing development of the start-up, ICT and R&D businesses
The conference has been arranged by Bluevine Consulting company. The German Outsourcing Association together with OutsourcingPortal and Outsourcing&More Magazine have been the Partners of the event.
Author: Wiktor Doktór, General Chair for Poland at German Outsourcing Association and CEO of Pro Progressio Foundation, Poland
The Cities of Eastern Poland, like Kielce, Olsztyn, Lublin are more than welcome to share other business information for foreign investors interested to locate their business or look for business partners. Please contact Mr. Wiktor Doktór, representative of the German Outsourcing Association in Poland.