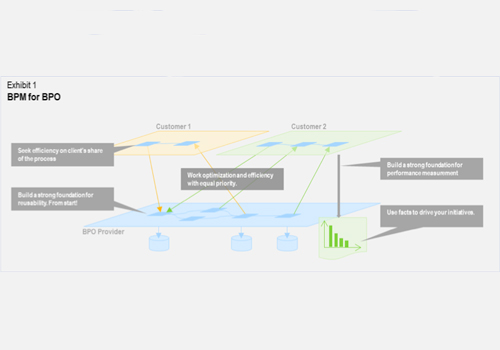 Despite intuitive, the practical side of implementing such initiatives poses serious challenges. On this article we provide some advice to ensure a smoother adoption of BPM on your BPO centers. Whether you're at an early stage of BPM adoption or already at a later stage, we highlight the following aspects as key to future success:
Prepare performance monitoring from start
Most if not all BPMS vendors ad- vertise some sort of outstanding out of the box capabilities. From our experience though, to fully leverage those features, performance monitoring requires proper design and if not addressed at an early stage, design decisions may impair your future ability to capitalize the monitoring benefits.
Implement and verify reusability
Reusability is another big tenet of BPM platforms. If your strategy includes providing per-customer process customization, you need to ensure that the bits and pieces of your actual processes are reusable and ready to cope with different but compatible process models. Not only should you design for change but it's equally important that you test and promote reusability on your projects.
Prepare to manage and deploy change
One of the biggest challenges of BPM projects is the management of constant changes. In particular if you follow an agile methodology, multiple versions of the same process must coexist. When you are running several customers, this complexity is even higher.
Your BPM architecture must be prepared for this constant change. Make sure your BPMS features migration and version management mechanisms and that they are robust and tested at early stages of your program (first month).
Mind the User experience
Leading BPMS provide UI build- ing capabilities which are de- signed for implementation speed and flexibility. This means that those out of the box features should be privileged as a way to ensure future change bandwidth, even if at cost of a modern more flashy approach. From our experience, a moder- ate investment, at early stages, to align the out-of-the-box UI with your usability standards, also with reusability in mind, renders outstanding satisfaction in the long run. From our experience, if UI is not addressed early, the later modification effort can be over- whelming and a pose a serious risk to adoption, satisfaction and continuity.
Support is critical
When you rollout BPM on your organization, specialized sup- port needs arise. The standard-faq based approach must be replaced by process-minded re- sources with business specific knowledge and cross application knowledge.
Conclusion
When preparing for BPM-enabling your BPO secure and test the major tenets of BPM from start. Creating a strong founda- tion of reusable blocks, performance metrics and change ready teams and infrastructure is what ultimately give you the flexibility to evolve your processes, and collect the promise to increase efficiency and add value to your clients.
The author: Pietro Casella is an experienced BPM Manager at Safira. With an eclectic IT consulting background delivering Process Reengi- neering, Corporate Performance Management and Business Process Management programs on the Financial Services, Health and NGO Sectors, he focuses on improving customers' business performance through smart BPM enablement, development and servicing initia- tives. You can reach him by email on: pietro.casella@safira.pt , www.safira.pt
This article was published in the special edition of the Outsourcing Journal "Outsourcing Europa", which you can order here free of charge (PDF)