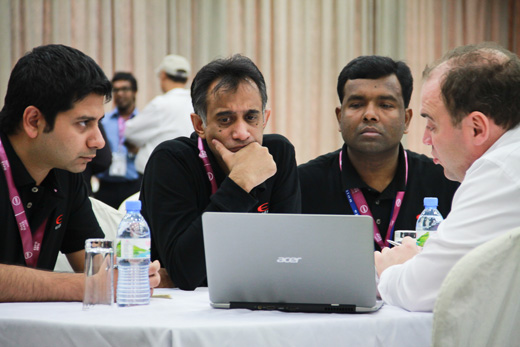 The Bangladesh Story
The last 5 years have been a watershed in Bangladesh IT/ITeS industry. During this time, the Internet connectivity has been enhanced vastly over the country. The successive governments have made IT as a focus area, and have extended favorable policies for the growth of the sector. Subsidies towards technology imports and tax breaks were provided to the industry. With global outsourcing industry witnessing an upward trend, and sourcing enterprises looking at lower costs for improved service delivery, the Bangladeshi IT/ITeS industry has been able to take advantage of its vast resource pool and government support to make its presence felt in Global outsourcing market. The overall size of the IT/ITeS industry in Bangladesh stood at ~250 million USD in 2010.1 The following table summarizes the growth experienced by export oriented Bangladesh IT/ITeS industry.2
Having gained experience and credibility in the international market for services, Bangladeshi companies are now graduating from low value added tasks to higher end engineering and product development assignments – Bangladesh based Eyeball Technologies has developed the Blackberry Playbook's Video chat for BBM, for Research in Motion (RIM) a Canadian giant. Other companies like SSD Tech have been developing mobile platforms for VAS for companies across 2 continents, while Graphic People has been creating promotional material in multiple languages for Dell, the technology powerhouse 3. Global giants like Samsung and AMD have opened/in process of setting up their R&D centers in Bangladesh. 4 It is no surprise then, that global Technology research house, Gartner has included Bangladesh in its list of top 30 outsourcing destination in its 2010 report.5
Even more spectacular is the growth of the freelancer community within Bangladesh. With no marketing or corporate backing, over 10,000 freelancers from Bangladesh have billed over USD 7 million over the last 1 year. This has led to Bangladesh being mentioned in top few destinations among freelance worker nations, and Dhaka- the capital city, to among the top 5 cities for freelance outsourcing work.
Bangladesh – an Introduction
Situated in South Asia, Bangladesh is a young democracy with all the growth pains that that entails. Traditionally an agrarian economy, Bangladesh has established itself as the Textile and ready made Garment powerhouse of the world, with almost all major global apparel brands sourcing from Bangladesh. With a large population of over 160 million people, and an economy on growth path, Bangladesh has been listed in the "Next 11 after BRIC" in Goldman Sachs analyst reports2, while JP Morgan has included Bangladesh in the "Frontier Five" economies.3 Credit rating agency Standard and Poor (S&P) and Moody's have also placed Bangladesh ahead of all countries in South Asia, except India.
The business climate in Bangladesh is on an upswing. The economy has been growing at ~6% for the last 5 years. The FDI into Bangladesh was 913 million USD in 2010, almost doubling in the last 7 years, and showing a robust growth from USD700 million in 2009. Bangladesh is also the world's second largest exporter of apparels and readymade garments.
Source: KPMG Report "Bangladesh Beckons" Jan 2012 (click to download)
Meet in Germany – German-Bangladeshi IT-Outsourcing Meeting
On December 11th a German-Bangladeshi-IT-Outsourcing meeting will take place in Berlin. Business and IT professionals from German companies will have the opportunity to meet in an independent environment with leading Bangladeshi IT- & business-service providers to learn more about the IT industry in Bangladesh and to discuss requirements, conditions and potential partnerships.
This meeting is initiated by CBI Ministry of Foreign Affairs The Netherlands, UN/WTO International Trade Centre and Deutscher Outsourcing Verband.
Date: 11.12.2012
Location: Berlin, Building of the Bundespressekonferenz
Fee: free of charge
Places: 25
Registration and more information (Deutsch / English):