Information for Authors
Submission requirements
TYPE OF CONTENT AND LENGTH
Content must focus on actual knowledge, incl. experiences and best practices, which can e.g. be case studies, research results, project reports or special topic papers.
Authors from commercial organisations should not include their company name in the text, but rather choose a neutral expression, such as "the service provider" or similar.
Articles for our Online Edition under www.outsourcing-journal.org should be at least 1 page and maximally 3 pages long. Publishing in our Special Editions (print/pdf) articles and papers should be at least 2 and maximally 5 pages long (standard word formatting, times, size 12, line spacing 1.0). We have no general or fix limitations regarding word or character count as the content is our main criteria.
GRAPHICS AND PICTURES
You can submit graphics or picture material with your text under the following conditions:
Please understand that we cannot gurantee that any graphics or picture material will actually be used, but we assure you that your text will be presented to the reader in an attractive and adequate way/manner.
If you want to include your own graphics and picture material please enclose proper proof of copyright / usage rights.
Graphics and picture material should be in a larger size and must have high resolution of 300ppi.
CONTENT LANGUAGES
We publish articles in German OR English language. We do not translate English articles to German and vice versa. If you would like to translate your English article to German, please ask us for our conditions.
REVIEW & PUBLISHING
Articles and papers will be selected for publishing after editorial criteria. They can be included either in our Online Edition or in one of our upcoming Special Editions.
All published articles include the author's profile and picture. Please understand if we send you remarks and suggestions for optimizing your text.
SUBMISSION REQUIREMENTS
Please submit your text as a Word document without hyphenation. Other formats cannot be accepted. Submitting an article or paper must include the following information:
Name, job title, name of the company or organisation, country
One (1) paragraph authors profile, incl. contact (at least website, better LinkedIn or Xing profile link)
Picture of the author (min 100mm wide and 300 ppi resolution)
Statement of authorship
Information of and where this particular text or parts of it have been published before.
SERVICES FOR AUTHORS
Authors benefit from our review and editing services (free for smaller adjustments and recommendations) as well as from an high quality representation of the article. In addition we provide for each author that is published with the Outsourcing Journal Special Editions (pdf/print) a seperate pdf with the article, professionally presented, incl. company logo and contact details on the back  for website integration, free downloads, sharing etc.
PUBLISHING FEE
Publishing of neutral/technical articles by commercial organizations is connected to a publishing fee of 90 EUR (see media data, page 16), which covers the editing, corrections, cost for picture material, graphics editing, etc. No additional cost occur.
Free: The publishing fee will not apply for knowledge partners of the German Outsourcing Association (see membership info here) or if the  organization is presenting in the edition, e.g. with a company profile!
Free: Publishing for universities, non-commercial research organizations and industry associations is free of charge.
Commercial content (advertorials): Publishing articles promoting single vendors or commercial services is connected to an exclusive Lead-Sponsorship (only one per edition, see media data page 15).
Interviews: Publishing interviews with management representatives of commercial organisations, such as services providers, software vendors etc. is connected to a publishing fee of 490 EUR.
USE OF CONTENT AND COPYRIGHTS
By submitting your article you grant the German Outsourcing Association and The Outsourcing Journal the right to publish your content and distribute it via its channels such as newsletter and social media.  Author and copyright information will be included in any publication. The copyright belongs to the author. If you have questions or would like to withdraw your permission to publish the article please contact us.
SUBMIT
Please send your article via email to: info@outsourcing-journal.org (German or English). Publishing fees, if any, are only asked once the article is confirmed for publishing. Submitting articles is free of charge.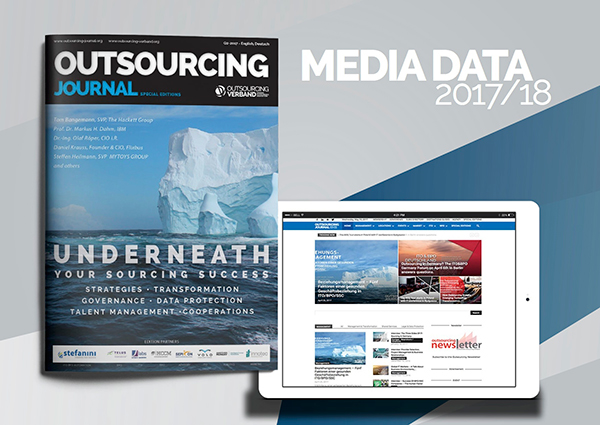 Please also download the media data PDF, that contains further information on the media profile, editorial calendar, presentation options and reach.
Please download the Media Data for more information on distribution and reach.
Send us your article via email. We will get back to you shortly.