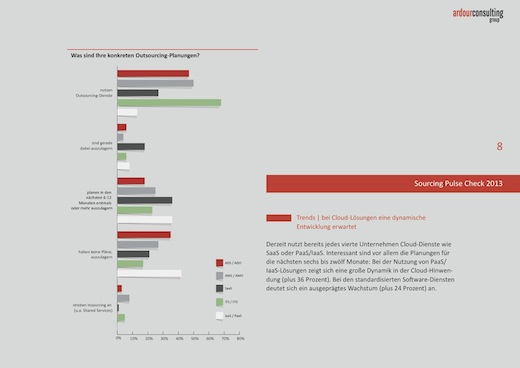 Overall, the survey finds that outsourcing is well-accepted among IT managers, with more than one third of the companies having signed new deals in 2013. The most popular strategy is still onshore delivery, but near- and offshore delivery are becoming increasingly popular.
An investigation of the most common strategic objectives reveals high levels of target achievement for reducing costs and making costs more flexible. Higher service quality, in contrast, was achieved only by some companies. Moreover, almost half of the firms reported difficulties in establishing a retained organization and effectively managing vendors.
For 2014, more than 60 percent of the organizations plan to increase their outsourcing volume. The largest growth is expected in cloud software and other cloud technologies, with 36 percent of companies planning to increase their volume or to outsource for the first time.
The study provides a comprehensive analysis of the current situation, identifying success factors and pain points. Moreover, it highlights trends and expected developments for the next 12 months, and includes practical recommendations to overcome the typical challenges and maximize benefits.
The report is available in German and English and can be downloaded at http://www.ardour.de/was-wir-kommunizieren/studien-leitfaeden/studien-leitfaeden-bestellen/

Ardour consulting is member of the German Outsourcing Association.