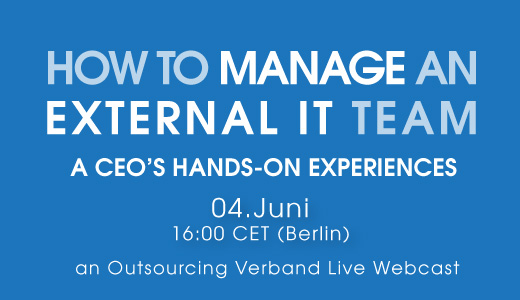 The webinar featuring two tech entrepreneurs and digital innovators will discuss best practices in sourcing offshore IT talent for software and/or mobile development both as an organic extension of in-house IT teams (distributed development) and as a standalone project execution unit.
Topics
In particular, the webinar will explain factors driving modern companies to seek IT talent beyond domestic pools of specialists and will then shed light on how to access the best offshore IT talent available, how to retain and manage your project team members when they are several time zones away without sacrificing quality of delivery and go-to-market speed and how to solve major issues in geo-separated IT development environment.
(or register to get access to the recorded session (video) via the above button)
Content type: Information, Insights
Date, Time & Location: 04.Juni 2013, 16:00 CET, Online
Fee: free of charge
Sprache / Language: English
Contact: office@outsourcing-verband.org
DE: Die Teilnahme an diesem Webinar ist kostenlos. Die Veranstaltung hat informativen Charakter und ist keine Werbeveranstaltung. Veranstalter ist der Deutsche Outsourcing Verband e.V.
EN: This is a free webinar without registration fees. The webinar has informative character and is not a marketing event. Organizer is the German Outsourcing Association.